By Gary R. Rasberry
grasberry@dailystandard.com
The girl's sectional golf tournament wasn't much of a question on who would win, but more likely, it was going to be a battle as to which team would get second.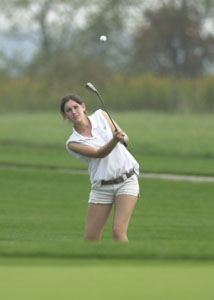 With state power Lima Central Catholic dominating the field on Tuesday at The Fox's Den in Celina, it came down to a pair of local teams battling for the other two spots that receive an automatic berth into the district tournament.
The T-Birds, ninth in the state last season, had all five golfers under 100 in shooting a 338. Megan Bader led the way with a 79 while Clare Huffman added an 84 with Sarah Vonderembse finishing at 87.
Minster, which is also having another solid season, picked up the second place spot with a round of 398 -- 60 shots more than the winning Thunderbirds. Celina came through to shoot a 424 and take the third and final spot and advance to districts for the first time since this year's seniors were freshmen.
Those two teams will be joined by Fort Recovery's Jill Wehrkamp, who became the first Indians girls golfer to qualify for the districts after winning a playoff against Upper Sandusky's Alyssa Washburn. The Wildcats got solid days from everyone up and down their five-player roster. Gina Slonkosky, the MAC girls medalist this past weekend, shot a 93 to lead the day for Minster. Andrea Paxson came in with a solid 101 while Alyson Ahrns and Kate Trushaw added rounds of 102 each. Brooke Kuenning rounded out the group with the non-scoring 105.
Minster coach Deb Ahrns was happy in getting her team to district, but thinks they can shoot better.
"The girls played the MAC and shot a 373," said coach Ahrns. "It was a different course and the competition might have been a little different, but they have the ability to (shoot better). They learned a couple of things, schooling-wise, that will make a big difference. We'll work on that to get out of the next level. That's tough to do."
Celina, which had the advantage of playing on its home course, pulled off some exceptional rounds from individuals to qualify as a team. Lauren Fuelling led the way for Celina with a round of 93. Emily Stolly, who had to leave practice early last week due to excessive pain in her back, came back to card a 101. Lisa Budde and Dixie Fagaly added 115s to get to 424, four shots ahead of Coldwater to take the final automatic district spot.
"Very exciting day for us. We had some individuals who shot some outstanding rounds," said Celina coach Sue Grubaugh. "Emily's 101 was a great round coming off of a very sore back -- she left practice early on Friday . I was glad to see her turn things around. Lauren's 93 was something I was always hoping she would shoot. I was tickled for her to see her shoot that. The rest hung in there and did the best they could. I don't think they were too happy with their scores, but it was enough to get them out (of sectionals)."
Wehrkamp, known for being a fast player on the course, was well ahead of the other pairings as her group was the first off the course. Wehrkamp shot nearly even on both sides -- 48 on the front nine and 47 on the back -- to finish at 95, then had to wait to see if the score would hold up (the top four scores for players not on a qualifying team advanced).
As the scores came in, Findlay, with just three players, moved two on as Kaitlyn Vangunten shot a medalist round of 76 and Trojan teammate Kelsey Alexander carded an 87. Bluffton's Louise Jones shot an 88 and Upper Sandusky's Washburn shot a 95.
Both Wehrkamp and Washburn went out to the 10th tee to begin the sudden-death playoff. Wehrkamp hit a solid tee shot while Washburn hit it short. On Washburn's second shot, though, the ball went into the bunker with the pitchout going just 10 yards.
"I was very nervous," said Wehrkamp. "I kind of thought I had it (when Washburn went into the bunker), but I wasn't sure. I thought if I hit a good chip, I would be okay."
Wehrkamp followed through and made it onto the green in three, then three-putted for a six. Washburn, who only started to play golf in June, had to settle for a seven.
"It feels good," said Wehrkamp about representing Fort Recovery in the next round, "And nervous at the same time."
Coldwater took fourth with a round of 428 and Beth Giere shot a 103 to pace the Cavaliers. Parkway took fifth with 447 as Katie King led the Panthers with a 103.
Fort Recovery finished sixth as a team and Marion Local was seventh with a 483 as Jill Beyke led the way with a 115. New Bremen wrapped up the local contingent with an eighth-place showing with a 489 as Becky Hartwig paced the Cardinals with a 103.
The top three teams and top four individuals will play Tuesday at Sycamore Springs in Arlington in the district tournament.