By Ryan Hines
rhines@dailystandard.com
What was supposed to be a grudge match featuring two of the upper-echelon teams in the Western Buckeye League, turned into a three-game domination by Celina's volleyball team on Tuesday night.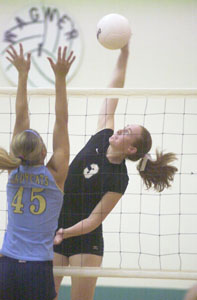 Celina, still unbeaten in the WBL, overcame a slow start and went on to bury Lima Bath, which had lost just once in the league, in three games, 25-20, 25-9 and 25-12.
"We scouted Bath and we felt that if we executed what we were trying to do that we were capable of having the results that we had tonight," said Celina head coach Nikki Etzler. "I'm happy that we got them in three, that was a goal for us."
The Bulldogs are now 12-5 on the season and a perfect 6-0 in the WBL while Bath falls to 9-6 overall and 4-2 in league play. Celina will take its undefeated league mark to Ottawa-Glandorf on Thursday night and to Defiance on Tuesday evening to battle it out with the other two WBL league unbeatens in what appears to be a three-team race to the finish.
"This is a great opportunity that the girls have in front of them with the league race," pointed out Etzler. "Thursday is obviously a huge match and I think that the coaching staff and the players are excited. O-G is ranked higher and undefeated, so they're going to be the favorites. I think that going into this match that we have nothing to lose. We're very capable of winning, but we have to play together as a team and focus on what we have to do to be successful. We have to be aggressive and try and take O-G out of what they want to do." Although Celina was clearly the better team on Tuesday night, it wasn't that apparent during game one.
Celina made eight unforced errors in game one alone, which allowed Bath to stay close until the teams were tied at 20-20.
The Bulldogs had a three-point advantage, but the Wildkittens battled back to tie things at 20-20 forcing an Etzler timeout.
After the timeout, Celina rattled off the next five straight points to win game one, 25-20. Amy Harner served up an ace while Kylie Dorsten and Betsy Hone added kills to spark the late run.
In games two and three, Celina came out with the intensity and focus that Etzler expects out of her Bulldogs on a consistent basis.
Bath led 3-2 in game two before Lindsay Scheer stepped behind the service line and converted on seven straight points to put Celina on top 9-3. Already leading 13-6, Celina then got five straight service points from Dianna Schwegman as the Bulldogs took control of game two, 18-7 before eventually winning, 25-9.
Game three was much of the same for Bath as the unforced errors began to pile up while Celina kept hammering home the points.
With Celina up just 14-11 in game three, Hone and Allison Knapke put the game away for the Bulldogs with a strong service game. Hone (six service points) and Knapke (four service points) helped Celina win 11 of the last 12 points to cruise to the game-three win.
"In the first game, I think that we just were battling with ourselves and not playing the way that we are capable of playing," said Etzler. "In games two and three, I thought that the girls played up to their ability and it showed in the scores. When we're confident in ourselves and not making errors, we're a good team."

Phone: (419)586-2371, Fax: (419)586-6271
All content copyright 2005
The Standard Printing Company
P.O. Box 140, Celina, OH 45822