COLDWATER -- Last evening in Coldwater, the annual Gene Weber Lions' Cross Country Invitational took place.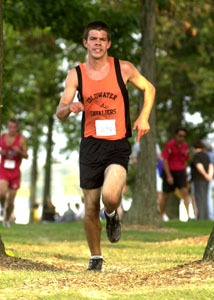 What began in Community Park eventually spilled over into the straightaway at Cavalier Stadium, and when it was all said and done, local runners did very well in one of their final tuneups before the postseason begins.
On the boys side, the Coldwater Cavaliers captured the top spot with 53 points to second-place Minster's final tally of 118 points. Two-time defending MAC-champion David Wilker led the way for the Cavaliers, placing first out of nearly 150 runners with a time of 16:10.10.
"Overall, I was very happy with how I ran today," Wilker remarked. "Running on our home course is nice because it helped me to know where the marks are at to pick it up, and I used that to my advantage. My goal today was to break 16 minutes and that didn't happen, but there's always next week," he concluded with a smile.
Coldwater coach Dan Pohlman was ecstatic about his team's effort last evening. "Our guys did an outstanding job preparing for tonight and they ran as good as they have all season," he commented. "I couldn't be prouder of the way we gelled as a team and ran in a pack -- it was a very pleasing performance and hopefully we can build on it."
For the Minster Wildcats, their second-place finish excites head coach Larry Topp and he hopes it can carry over into the rest of the season.
"We've been on a little bit of a backward slide here for the past couple of weeks, so hopefully today can break us out of that," said Topp. "The kids ran well today, they're still a long way behind Coldwater, but I feel we made some good improvements and hopefully it can continue for a couple of more weeks and we can be in the hunt."
Other area finishers on the boys side included Minster runners Casey Heckman and Kregg Olding. Heckman placed fourth overall with a final time of 16:58.90, while Olding secured the ninth spot with a 17:12. New Knoxville's Sam Wierwille placed eighth with a 17:10.40, while Coldwater Jamie Kuess rounded out the top 10 with a 17:12.30.
In the boys final standings, the Versailles Tigers placed sixth with 152 points, while the St. Henry Redskins came in eighth with 199 points and the New Bremen Cardinals finished in the ninth position with 200 points.
In the girls' race, Minster freshman Bernadette Burke continued to dazzle the local cross country scene, as she placed first with a race of 19:00.80. Versailles' Mary Prakel, also a freshman, finished in the runner-up slot with her run of 19:20.80.
"We always look forward to running on this course. It's a fast course and the competition is great," said Minster coach Jessie Magoto. "I was very pleased with how the girls handled the competition tonight, and it was also nice to Bernadette take the early lead and Brigitte (Sherman) stay close to her. Our team did a good job of keeping close to one another and fortunately we were all up near the front. We knew Versailles was going to be a challenge, and they will be for the next several weeks, so I'm happy we were able to hold them off. They have a lot of girls and they always get better as the season goes on."
The Wildcats grabbed four of the next eight spots to help them capture the team championship with 26 points -- more than 40 points better than the Versailles Tigers who finished in second place. Brigitte Sherman (third place, 19:21.60), Katie Dahlinghaus (fifth place, 19:41.40), Lauren Fausey (seventh place, 19:55.20), and Lei Bornhorst (10th place, 20:00), all placed in the top 10 for the Wildcats.
Versailles' Kristen Smith and Coldwater's Ashley Kanney were the other two area finishers in the top 10 last evening. Smith placed fourth with a time of 19:31.90, while Kanney was in sixth with a 19:50.50.
"For our girls, Ashley Kanney broke 20 minutes for the first time this season and she led a charge that I was very happy with tonight," said Pohlman. "We have been trying to improve all season and as the year approaches the end, it's nice to see us continue to put it together and get better."
In the final standings for the girls, the Cavaliers finished in fifth with 162 points, while the New Bremen Cardinals were eighth with 214 points.
In the junior high races, New Knoxville captured the boys title over Russia. Ranger Ryan VanderHorst won the two-miler in 11:02.10. Minster won the girls race with 33 points, with Fort Loramie second with 40. Janel Olberding of Fort Loramie won the race in 11:53.10, with Minster's Averie Bornhorst a close second in 11:53.80.
All area squads are back in action next week at the Midwest Athletic Conference meet to also be held at Cavalier Stadium in Coldwater on Thursday.