By Gary R. Rasberry
grasberry@dailystandard.com
The week was described as one where the Celina boys soccer team held their fate in the Western Buckeye League in their hands.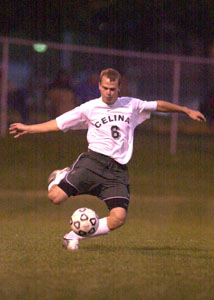 In third place with a 4-0-2 league mark and 14 points, Celina had to face once-beaten Ottawa-Glandorf on Monday and then unbeaten and untied Defiance on Thursday.
After dispatching O-G on Monday to climb into second, Celina needed a break in facing the 7-0 Defiance squad at the Soccer Stadium.
That break came with 8:19 left in the game.
Senior Drew Russell, who had just one career goal, got a header from teammate Chris Post and put it in the net. That and a rock-solid Celina defense held up in getting a 1-0 win over Defiance to get three big points. Now, for Celina (9-2-2, 6-0-2) to win the WBL title outright, it will take a win next Thursday at Wapakoneta and some rooting for Ottawa-Glandorf. If the Titans beat or tie Defiance next week, Celina will finish with 23 points (three points for wins and one point for ties). If Defiance wins, its 8-1 record gives it 24 points and the title. A tie puts them at 22 points with the loss leaving them at 21. If Celina ties or loses, Defiance takes the title.
But those scenarios took a back seat as members of the Celina girls soccer team and parents of players stormed the field after the match as several Defiance players fell to the field with Defiance coach Carlos Lopez ranting to officials.
"They came in here and wanted to win," said Celina coach Bruce Strine of his team. "They played their hearts out. I'm so proud of them."
The way the match started, it appeared Celina was headed towards its third tie in the league of the season. Defiance peppered Celina keeper Matt Leugers in the first half, trying 10 shots on goal. Leugers made four saves and got some big help from his defenders in deflecting more shots.
In the second half, Defiance nearly came up big again. Leugers was caught out of position and Enrique Alvarez looked to have the goal, but sweeper Eric Braun got back and kicked the ball out before it crossed, denying Defiance a sure goal.
"Anytime you can shut out a quality team like (Defiance), your defense has done something and your keeper is a part of it," said Strine. "It's a whole team effort. Our defense has been getting stronger and stronger. Defiance hasn't been shut out this year. I'm proud of our defense. It was a struggle."
Celina also had plenty of opportunties in the first 72 minutes of action. The shots were either saved by Defiance keeper Matt Gray, wide of the goal or, in several instances, hit the top of the goal pipes and went over.
Perseverance finally paid off. Brian Dorsten sent a crossing pass into the goal and Post made the first contact with a header. While still in the air, Russell added a header of his own, putting the ball into the top right side of the net and sending the Celina players into joyful celebration.
"It started in the back here with a nice ball to Dorsten," said Strine in setting up the score. "We got it on the outside and put in the middle. It bounced around on a couple of heads and took a nice bounce into the far corner. There was a lot of spin on the ball coming off a couple of heads. That happens, and we're fortunate."
All Celina had to do was continue the solid defense for the final eight minutes as Defiance tried frantically to tie the score.
Celina defenders did their best to keep Defiance players in front of them and not allow long passes, and even when the ball got to Leugers, he punted the ball downfield and forced Defiance to go long distances to get back into scoring position.
"We made one change right away. We doubled up on (Dylan Mertz). They got a premiere player," said Strine. "We assigned (Dave) Skoczyn to double mark on him because we didn't need a goal; we needed to protect our own goal."
While Celina plays Wapak next week, they'll be waiting for the call on the Defiance-OG match.
"That's going be a heckuva game there," said Strine of the OG-Defiance matchup. "We've got to get focused for one more WBL match at Wapak. They're always tough on their field."
The Celina junior varsity improved to 8-1-4 on the season with a 5-0 win over Defiance. Andrew Menchhofer and Alex Dammeyer each had two goals with Kaleb Menchoffer adding the other goal. The Celina junior varsity has scored first in every match this season.
Before the Wapak match, Celina travels to Bellefontaine on Saturday.
Girls match note -- The Celina varsity girls soccer team will play first on Saturday against Toledo Central Catholic. The match starts at 11 a.m. with the junior varsity to follow at approximately 1 p.m.