By Bruce Monnin
bmonnin@dailystandard.com
COLDWATER -- With a big game at Versailles coming up next week, some people thought maybe Coldwater would be looking past Minster this week.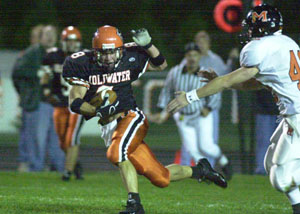 However, the Cavaliers showed they were fully focused on the task at hand, as they dominated the Minster Wildcats in a 48-7 win, the 12th year in a row Coldwater had come out on top in this MAC matchup. Also, with Youngstown Mooney losing, Coldwater should find itself on top of the Division IV rankings when the next poll comes out on Tuesday after holding steady in the second spot to this point in the season.
"These kids show a lot of maturity," commended Coldwater coach John Reed. "We've talked about Versailles, but we've said we need to springboard off Parkway and springboard off Minster to be able to play the way we need to against Versailles."
"They're a great football team," admitted Minster coach Whit Parks. "They have a lot of athletes so give them credit for that."
While Minster held Coldwater to just 57 yards rushing in the first half, the Cavaliers came out with their passing game firing on all cylinders, with quarterback Steve Borger connecting on 11-of-13 passes for 222 yards and four touchdowns before intermission. "I think the difficulty with us is that it's hard to defend both," explained Reed. "Either you have to commit to stop Ross (Homan), or you have to commit to stopping the passing game. I don't know, unless you can just physically outman us, that you can take both of those away."
Minster started the game on their own four-yard line, and after gaining what would turn out to be its only first down of the first three quarters, were forced to punt. Ross Homan carried the ball six times for 40 yards on the ensuing drive before Borger hit Brady Geier for a four-yard touchdown pass, only the second touchdown reception the Wildcat defense had given up on the season.
On Coldwater's second possession, Borger completed a 39-yard pass to Devin Swartzel to penetrate deep into Minster territory. Three plays later, Borger hit Geier again, this time for 16 yards and a score to give the Cavaliers a 14-0 lead after the first quarter.
Coldwater struck through the air again on its next series. Borger completed 35-yard passes to both Justin Kahlig and Geier. Then after a couple of penalties resulted in a 3rd down and very long situation, Borger hit Geier again for a 34-yard touchdown pass.
One final scoring pass, this time 23 yards from Borger to Kahlig, made the score 28-0 at halftime.
The second half started out on a scary note for Coldwater when Geier was injured on the kickoff return and taken from the field on a stretcher. His status was still uncertain after gametime.
"I think he's fine," stated Reed. "I think it was for precaution. He kind of rolled up over his head when he went down and had some pain in the middle of his neck, so they were trying to be very cautious."
The incident did not seem to slow down the Cavaliers as it took them only three plays to drive 76 yards and score on a 15-yard Borger run. A Homan one-yard run and a Troy Harlamert 15-yard run rounded out the Cavalier scoring on the night. Minster broke onto the scoreboard in the fourth quarter when quarterback Aaron Heitbrink broke free for a 48-yard touchdown run.
With the victory, coach Reed becomes the leader in all-time coaching victories in Coldwater history with 110 wins, passing Paul Ponzuric for the record.
"This just means I've been around a long time," said Reed. "It's been a great thrill to have been here at Coldwater for 11 years. It's been a joy."
On Friday, Coldwater (7-0) travels to its long-awaited showdown with the top-ranked team in Division V, the 7-0 Versailles Tigers. Minster (3-4) hosts 3-4 St. Henry on Friday.