By Margie Wuebker
mwuebker@dailystandard.com
NEW BREMEN -- The aroma of pumpkin pie filled Crown Pavilion as a forklift carefully moved the 12-foot 4-inch confection toward a digital scale, More than 2,000 people waited in eager anticipation.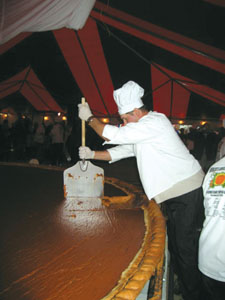 Cheers erupted with the announcement of the official weight -- 2,020 pounds. After 10 months of planning and several practice sessions, it appears the New Bremen Giant Pumpkin Growers set a world record Saturday.
The giant pie, which eclipses the previous record of 418 pounds set nearly two years ago in Windsor, Calif., is bound for the Guinness Book of World Records. It shattered the old mark by a hefty 1,602 pounds.
"I feel this day will become a part of New Bremen folklore and New Bremen history," announcer Mark Wulfhorst told the crowd which ranged from babes in arms to octogenarians in wheelchairs.
More than 50 people were on hand when committee members Jeff Wells, John Turner, Jon Wells, Leon Homan, Greg Reynolds, Jess Siegel and Brian Boroff arrived shortly after 5 a.m. with dozens of white plastic buckets containing bags of filling. The filling, mixed and pasteurized at a Botkins area food processing plant, required 897 pounds of pumpkin, 155 dozen eggs, 62 gallons of evaporated milk, 297 pounds of sugar, 3.5 pounds of salt, 7 pounds of cinnamon and 2 pounds of pumpkin pie spice.
Representatives of a Springfield company that supplied the pastry worked Friday rolling out dough and fitting it inside the specially made pan that measured 12 feet, 4 inches with a depth of 4 inches.
Thirty-eight companies assisted with the effort, supplying everything from the custom-made steel oven encased in concrete blocks to heat-monitoring equipment that maintained the designated temperature throughout more than five hours of baking. The pie remained in the oven to cool after that time, apparently disappointing bees that buzzed in expecting an autumn snack.
New Bremen Mayor Jeff Pape said, "These guys worked so hard to make their dream come true and the community is the benefactor. This is an example of what can be accomplished when people work together."
Local residents Karen Conradi and Brenda Albers were on hand long before dawn watching history -- or in this case pumpkin pie -- in the making.
"People cheered when the pie was pushed into the oven around 7 a.m.," Conradi said. "It's hard to believe there was so much excitement at that hour of the morning."
The two sisters dined on pumpkin pancakes with all the trimmings before going home for a much-needed nap. They returned to taste the finished product later in the day.
Tyler Wolfe, 13, of St. Marys, waited patiently for his turn to purchase a $1 chunk of local history topped with a dollop of whipped topping.
"This is history in the making or, better yet, extraordinary phenomena," the Minster Middle School student said with a smile. "New Bremen has earned a reputation as pumpkin pie capital of the world and it all happened right here in Auglaize County."
Laverta Scheer, 87, a current resident of Otterbein St. Marys Retirement Community, also enjoyed a piece of pie.
"It tasted pretty good," she said. "Almost as good as what I used to make."
The former New Bremen woman marveled at the feat that drew so much interest and such a large crowd. She shook her head before adding, "If somebody told me something like this would take place here, I would have thought they were crazy."
Vicki Barbee leaned on her cane watching a long line of people move slowly toward the serving line.
The Ney resident, who lives between Toledo and Fort Wayne, Ind., found information about the event on the Internet while looking for interesting weekend activities.
"I didn't expect to wind up in New Bremen this weekend," she said. "This is incredible; I'm glad I came."
Visitor Marsha Barnes of Paulding had a special reason for making the trip to New Bremen. Her sister, Glenda Castelli, was unable to come from California for the event so she came instead.
"My sister organized the Windsor pumpkin pie project and I helped with the crust," Barnes said. "This pie is much larger and involved a lot more work."
The project, part of a farmer's market event in the California community, benefited the culinary arts department at a local school. Students helped prepare 55 gallons of filling and the owners of a local bakery provided use of an oven. The actual baking took just three hours.
"Our record stood from October 2003," she added. "I think New Bremen's record will stand even longer."