By Janie Southard
jsouthard@dailystandard.com
ST. MARYS -- They're worried, but so far Goodyear employees aren't talking for the record about the sale of the local plant, a consideration announced two weeks ago by the Akron home office.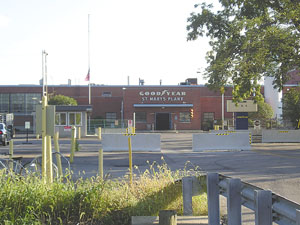 Off the record, employees have said they're concerned about their union contract, which is up next June, being honored. Longtime employees are concerned retirement savings will be used up while they look for another job; other high seniority workers worry their age may go against them.
City officials also are concerned, including Councilman Jim Harris who said he's "waiting with bated breath" for the final outcome.
"The financial impact to the city would be major bucks, although I don't have the figures. Certainly the loss to the tax base would be significant. Plus, (Goodyear) is a customer of our municipal electric. It is their demand for energy that allows us to bargain for rates for everyone in town," Harris said via telephone interview last week.
He continued, saying that the St. Marys plant employs "highly skilled people making highly unique products" which may limit the field of potential buyers. "And, of course, we don't know what a buyer may be thinking when they look at the plant," he added.
Mercer County Economic Development Director Larry Stelzer recalled for the newspaper the loss of Huffy Manufacturing and AGCO with their hundreds of jobs several years ago.
"Like St. Marys now, we had no control over the situation and just had to wait and see. That's the frustrating part, no control. But no one is at fault; it's just the nature of business. And, certainly, no community is immune," Stelzer said.
He pointed out that if the Goodyear plant closes, the economy in Mercer County will also be affected. "We have a lot of folks living here and working at Goodyear, plus I believe there are many suppliers here, like machine shops and so forth," he said.
According to a chart prepared by the Southwestern Auglaize County Chamber of Commerce Goodyear is the county's second largest industrial employer with more than 700 workers who reside in various local towns as well as surrounding counties.
But, St. Marys Area Chamber of Commerce director Nick Van Schoyck said last week he "really doesn't anticipate (the plant) closing."
"My hope would be that if the
plant sells the buyer would keep the plant in operation. In fact, we may find it improves the situation. It could be the cornerstone where the buyer operates versus being a stepchild as it has been with the rubber company," the chamber director said.
Phone: (419)586-2371, Fax: (419)586-6271
All content copyright 2005
The Standard Printing Company
P.O. Box 140, Celina, OH 45822