By Gary R. Rasberry
grasberry@dailystandard.com
All year, the Minster boys golf team has been playing towards the state golf tournament.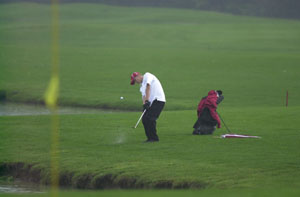 Now, seven years after the Wildcats went to state for the first time, the team will go again.
Minster plays in the state finals starting Friday morning at 8:30 a.m. on the back nine of The Players Club at Foxfire Golf Course in Lockbourne, which is south of Columbus.
The tournament was moved from the Scarlet and Gray Courses on the campus of The Ohio State University due to restructuring at the course.
The number-five player for the Wildcats will tee off at 8:30 a.m., with the number one teeing off at 9:02 a.m. The Wildcats will be joined by St. Henry's Jay Woeste, who qualified as an individual at the district tournament at Lost Creek in Lima.
Minster, co-coached by Aaron Homan and Mike Griner, will be making its first trip to state as a team since 1998. Homan is making his second trip as a coach after guiding the girls team to the state tournament several years back.
"We're just so excited," said senior Matt Purpus, who shot an 80 at Lost Creek last Thursday. "That's one of the goals we've been working on all year. At the beginning of the year, we wrote down our team goals. The MAC was one goal and making state was another one. We've accomplished that. It feels good."
Said senior Max Phlipot, "Now our new goal is, hopefully, to bring home a state title. That would be cool."
The Wildcats captured the fourth and final team spot at the district tournament to qualify for state.
"We were all sitting there, watching all the scores come in," said senior Adam Borges. "We were all getting a little nervous. ... When the scores came in and we saw we were fourth and going to state, we got a little excited."
Minster has been solid all season, going 9-0 in MAC dual matches and winning the MAC tournament. The group, made up of three seniors and two juniors in the five-man team, looked to be ready for state from the first week of action.
"We knew it was going to be a good year," said junior Jimmy Stechschulte. "Right off the bat we won four tournaments in the first week. Just feeding off that, we went through the year and kept rolling."
Since getting the ticket last Thursday, the team has been focused on the opportunity facing them.
"We've just got to get prepared," said junior Evan Lee. "We're doing everything like we usually do. We come out here and practice and practice with a purpose. There's no changes. It's state, and it's a big thing, but we have to keep with what we've been doing."
Tony Weaver, who had been the regular sixth man when six players were used, is also ready to go if needed. In the event one of the top five cannot compete on Friday, he will tee off.
"It feels good to go in case they need me," said Weaver. "I do wish I was playing, it would be a lot more fun."
Woeste finally gets his shot
During his freshman year, Jay Woeste got the chance to watch a teammate compete at Columbus in the state golf tournament.
Now, two years later, Woeste gets his chance after posting a 77 at the district tournament at Lost Creek.
Woeste said it was a roller-coaster day before finding out he was moving on.
"On the front nine, I got up and down okay," said Woeste. "I didn't do as well on the back nine and I birdied to get my 77.
"I had to wait for over two hours for all the other scores to come in. I didn't think I was going to make it. I thought it would be a 75 or better. Then I saw I was in and felt better."
Getting the chance to see former teammate Matt Dippold compete in 2003 was a big help.
"I'm just really excited," said Woeste. "I got to see Matt go my freshman year, now I'm going."
Woeste, who won the Mercer County Invitational his sophomore season and was third this season, picked up his game towards the end of the year.
He fired a 77 on a very rainy day to earn co-medalist honors at the MAC tournament at The Fox's Den. A week later, he and teammate Robby Brunswick, each parred the first playoff hole to advance to the district.
Woeste gave a lot of credit to coach Charles Maier for helping him through a slump during the season.
"I started the year off well, then midway through the year I hit a slump," said Woeste. "(Coach Maier) got me out of my slump and I started playing my best golf of the year."
Woeste will get a chance to play The Players Club at Foxfire on Thursday with a practice round on the course. On Friday he will tee off at 9:18 a.m. from Number 10. His plan for the tournament is simple.
"I just want to go out and play my game of golf," said Woeste.