By Shelley Grieshop
sgrieshop@dailystandard.com
COLDWATER -- A doctor looks at a patient's X-ray, decides no bones are broken and sends the injured man home from the hospital with a mild sprain.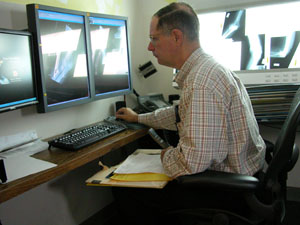 It's a routine scenario that now can be handled by a physician from home or between visits with other patients at the office -- thanks to state-of-the-art technology.
"For an office-based physician like myself, this is incredible. It's a much more accurate and convenient method," Dr. Tom Schwieterman says of the new Picture Archival and Communication System (PACS) that began operation at Mercer County Community Hospital, Coldwater, on Oct. 3.
PACS is one of several items to be featured during the annual Fall Health Fair this Saturday at the hospital. See sidebar.
The PACS software is fed images from other diagnostic equipment, such as X-rays, and digitally processes them for radiologists and physicians to read within minutes. The images can be viewed at many different angles and contrasts. Medical staff can zoom in and out of the projected images similar to programs developed to manipulate digital photography. "There are big benefits here. The images are stored right here on the PACS computer so we don't have to go digging in files," said Dr. John Cox, the hospital's chief radiologist. "The images can be saved on CDs, which are much easier to keep and transport than the old film."
Cox explained how PACS can manipulate images without technicians having to move injured patients any more than necessary.
"Plus we have the ability to get consultation with other radiologists at St. Rita's (Hospital in Lima) or elsewhere immediately by sending them the image," says Cox who used PACS at other hospitals before coming to Coldwater four years ago. "Two or more opinions brings more expertise to the patient."
The need to transport patients to other facilities could be avoided in some cases when results are first reviewed by specialists many miles away, hospital officials say.
Schwieterman, a member of the hospital's medical staff, was the first physician to add PACS compatible equipment to his Maria Stein office and his Coldwater home. With a mobile hand-held computer tablet, he is able to easily show the results of X-rays, ultra-sounds, MRIs and other equipment, to his patients during office visits.
"I just type in what I'm looking for and in minutes I have the results. The digital images are a much better resolution than film," Schwieterman says.
Training for PACS was done on site, says Chris Kramer, a registered technologist at the Coldwater hospital.
"The system is relatively simple," Kramer says.
Mammography results are currently the only readings unable to be processed by PACS, she added.
Mercer Health CEO T.J. Padden says the system is currently being installed at the medical center in Celina, which will soon be a wireless facility. All physicians at the center will be offered PACS in the next few months, he says.
The hospital's emergency room has already begun using the system. It also is available to physicians on each floor of the hospital.
Padden, a registered nurse, says PACS' ability to transmit images to other medical facilities gives the hospital access to a licensed radiologist anytime of the day or night. The system eliminates past problems when radiologists were ill or on vacation, he says.
"This is absolutely the most incredible thing I've seen in my career in the medical field," he added.
Phone: (419)586-2371, Fax: (419)586-6271
All content copyright 2005
The Standard Printing Company
P.O. Box 140, Celina, OH 45822