By Gary R. Rasberry
grasberry@dailystandard.com
VERSAILLES -- John Reed had a surprised look on his face as he faced the media after Friday's much-anticipated matchup between his Coldwater Cavaliers and the Versailles Tigers.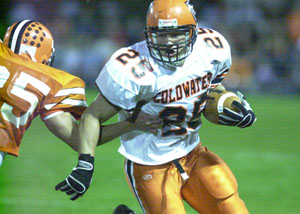 What was thought to be a close, defensive game turned out to be a quick-scoring affair in the beginning for each team.
The Cavaliers scored on their first five possessions of the game and Versailles scored on its first two, then got shut down on three straight series to end the first half. The cushion was enough to give the Cavaliers a 24-14 lead at the break and wrapped up as a 31-21 win at Hole Field in the Battle of Orange and Black.
Coldwater, the top team in Division IV according to the most recent Associated Press state poll, improves to 8-0 overall and 6-0 in the Midwest Athletic Conference. Versailles, the AP's top team in Division V, suffers its first loss to go to 7-1 on the season and 5-1 in league play.
"Did you expect that?" Reed asked to a reporter about the early scoring explosion. When the reporter said he wasn't sure, Reed responded, "I didn't either. I certainly didn't think we would be able to do that. No way." Coldwater got the ball first after Versailles deferred. The first play was a 12-yard Steve Borger pass to Devin Swartzel to get the ball to the Tigers' 44. Ross Homan then broke through and carried the ball down to the eight before Borger called Swartzel's number again for an eight-yard pass to make it 7-0 just 28 seconds into the game.
Versailles took its time to answer, going on a 17-play, 80-yard drive. Quarterback Troy McNeilan handed off to all three of his backs -- Curtis Wourms, Matt Murphy and Russ Beisner -- and found tight end Stephen Winner for several big pass plays to get the team to the Cavalier one for a fourth-and-one situation.
Despite Cavalier fans saying he didn't make it, McNeilan busted in for the final yard to tie things up with 3:39 left in the quarter.
Coldwater immediately responded with an eight-play drive going for 80 yards. Homan tore up more field with his run before Borger set up Justin Kahlig perfectly for a 25-yard scoring pass just eight seconds into the second quarter.
Versailles quickly tied it up when McNeilan hooked up with Winner on the first play of the drive for a 67-yard touchdown pass.
It looked like Coldwater was going to get stopped on its next possession, facing a fourth-and-seven from the Tiger 21, but Trevor Stromblad went out to try a 38-yard field goal. The ball went just over the crossbar for three points to put the Cavaliers up 17-14.
The Tigers drove again, but they were were bogged down, forcing Zac Richard to try his first punt of the night, pinning the Cavaliers back at their six. Homan punched out some daylight with a 17-yard run but Borger lost five on a sack. Coldwater recovered to get to the 33 when Borger got a shovel pass to Geier, who took it 52 yards to the Tiger 15. Borger let Geier put it in the end zone with a 15-yard strike to make it 24-14 with 2:17 left in the half.
"To be able to drive the ball up and down like that against a great, great football team, you knew they were going to answer," said Reed. "You just knew it."
The Tigers tried to punch one in before the half as McNeilan found Murphy and Wourms down the stretch. McNeilan tried to get one in the end zone, but Brady Geier batted the ball down from the 15. The Tigers got to the five, but could not get a play off before the officials signaled the end of the half.
"We had trouble with speed all year," said Versailles coach Al Hetrick. "They're not only fast, they're physical. Two pass plays got behind us. The kids could have pulled up the tents, but I thought we played well in the second half."
The defense took over in the second half as the teams managed just a touchdown each in the half. The Tigers punted on their first series of the second half, then went on a drive on their second after Kahlig caught his second touchdown pass of the night on a 31-yard pass from Borger.
Starting on their 23, McNeilan drove the Tigers downfield, getting several big pass plays to Winner. But on fourth-and-five, McNeilan tried to get in the end zone with a pass, but the Cavalier defense broke it up.
After Coldwater went three-and-out and only got a six-yard punt, Versailles cut the deficit it to 10 with a Matt Murphy touchdown run of 17 yards. Coldwater punted on its next series, but McNeilan was picked off by Brady Geier with 7:53 left. The Tiger defense stiffened as Coldwater had to punt again. A 12-play series got the Tigers to the Cavalier 16, but McNeilan was pressured into an incomplete pass again ending the drive.
After Coldwater punted again, McNeilan completed a pass to Jordan Liette, but while getting hit, Liette fumbled as the Cavaliers got the ball with 1:50 left. Borger and Homan ran out the clock to end the game.
"You don't get all this hype without two great football teams," said Reed. "I told Al (Hetrick) 'You hate to see anyone lose a hard-fought football game like this.' Both teams are winners."
"Coldwater is an outstanding team, and we feel we are too," said Hetrick. "It was a hard-fought game. We just came up a little short on the score."
Homan rushed for 113 yards in setting up Borger's passing game. Brady Geier added 77 yards on just three catches and was solid on pass defense.
"Our big play players made the big plays tonight, no question about that," said Reed. "I don't know how many tackles Ross had, but he had a boatload. He's legitimate, there's no doubt about that."
With the Tigers' running game stymied -- held to just 84 yards rushing -- McNeilan came up big throwing. The Tiger junior was 18-of-31 for 277 yards with a touchdown. Winner took advantage of having a size advantage on the Cavalier defenders, finishing with 175 yards on eight snags.
"They did a pretty job taking away our run, so we have to go to the air," said Hetrick. "Tony proved he can throw it. We had a pretty nice passing attack.
"Steve's our go-to receiver. He's done a great job all year and last year. The cream comes to the top. He made some great catches."
Coldwater will look to clinch at least a share of the MAC title on Friday as Fort Recovery comes to Cavalier Stadium. Versailles travels to St. Henry to face the Redskins.