ST. MARYS -- One of the closest finishes ever in the team standings during the varsity boys race highlighted the 2005 running of the Western Buckeye League cross country meet Saturday morning at K.C. Geiger Park.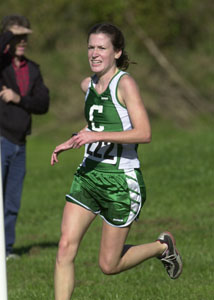 Four teams finished within 10 points of each other and five teams were within 36 points.
Van Wert took home the trophy with 68 points. Defiance was runner-up with 69, Shawnee was third with 72, Ottawa-Glandorf was fourth with 78 and Celina was a solid fifth with 94 points. St. Marys placed sixth with 165 points.
The top-four teams were separated by an average of just 22 seconds a man, Van Wert averaged 17:30 a man, Defiance 17:31, Shawnee 17:32 and Ottawa-Glandorf 17:52.
"The boys came over here to run the course on Thursday and our goal was to win this and I think they thought when they came over here today they would do that," said Van Wert coach Mark Alstaetter. "This a young group that ran here, a couple of them were on the team that won the league a couple of years by two points over Defiance and I think they saw what could happen in a small meet like this one and they came over here and ran well. "We came in a little banged up, our number-five guy had a bad hip and that was our fear how was he going to run," continued Alstaetter. "We knew our top four guys were going to run fairly well, our fifth runner placed well and we were able to catch a few breaks."
"The closeness of the boys team race didn't suprise but the order of the teams did," said Celina coach Dan Otten. "The scores were some of the highest that I have ever seen in the league meet just because each of the top teams had a couple of good runners. I thought our pack of five runners was solid."
Defiance senior Darrin Flickinger blistered the course winning in a time of 15:59.6 which was three seconds faster then Van Wert senior Justin Dickman.
Celina placed three runners in the top 20 with Shawn Caruso leading the way in 11th, Chris Johnson placed 14th, and Issac Niekamp finished 18th, to earn all-league honors.
The top St. Marys finish was by junior Jason Durkee, who placed eighth.
On the girl's side of the meet, as expected, Defiance's five runners got in the top 23 to win the title with 52 points. Celina was a solid second with 74 points and St. Marys placed eighth with 218.
A pair of Defiance sophomores Kristen Barth and Lauren Fett placed one-two. Kenton's Mallory Bllom was third. Celina's top two of Melissa Roth and Jen Blacketer placed fourth and fifth.
Rounding out the rest of the top 12 were Lindsey Kentner and Tiffani Sawmiller of Wapakoneta, Abbie Sehlhorst of Ottawa-Glandorf, Heather Easley and Ashley Smith of Van Wert, Taylor Schultz of Defiance and Christine Suever of Elida.
The top St. Marys finish was by freshman Ashley Bubp who placed 35th.
"Second place was probably the best we could of done today," said Otten. "Defiance is state ranked and coming in here I thought we could place anywhere from second to fourth, all teams are good this time of year, so we will take second place. Sure, first place would be better but sometimes teams are better.
"Our fifth and sixth runners, Beth Secrest and Mindy Cook, had the best times of the year," continued Otten. "Our first four runners, (Roth, Blacketer, Heather Petrie and Amanda Smith all who placed in the top 15) have been solid all year and it was up to the young puppies in the back to come through for us and their performance was crucial today."
Phone: (419)586-2371, Fax: (419)586-6271
All content copyright 2005
The Standard Printing Company
P.O. Box 140, Celina, OH 45822