By Shelley Grieshop
sgrieshop@dailystandard.com
WAPAKONETA -- A 30-year-old Celina man faces a felony fleeing and eluding charge after leading a sheriff's deputy on a high-speed chase early Friday morning.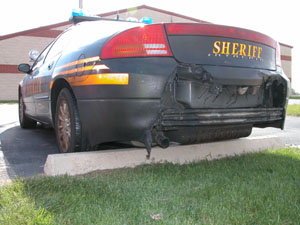 Sam Schoch, 219 Livingston St., nearly escaped the arm of the law when the Auglaize County Sheriff's cruiser suffered disabling damage during the 10-mile pursuit that began at 12:39 a.m.
However, Schoch's luck soon ran out. After receiving help from three witnesses inside Schoch's 2005 Subaru during the chase and conferring with the Celina Police Department, Schoch was arrested at his home without incident Friday evening.
He appeared in Auglaize County Municipal Court in Wapakoneta on Friday. Acting Judge Ron H. Miller ordered Schoch released on his own recognizance after the case was bound over to Common Pleas Court. The case will likely be presented to an Auglaize County grand jury.
Schoch was ordered not to operate a motor vehicle except to and from work. A preliminary hearing is set for Monday. Schoch is represented by Wapakoneta attorney Robert Kehoe. According to a report from the sheriff's office, Deputy Brian Little was on patrol and traveling westbound on County Road 33A when he saw an eastbound vehicle approaching at a "very high speed."
Little observed the car attempt a northbound turn onto Townline-Kossuth Road and lose control. Schoch allegedly regained control and continued eastbound before attempting a southbound turn onto Glynwood-New Knoxville Road. He again lost control, the report said, and continued east on County Road 33A.
Schoch allegedly turned south on Moulton-Fort Amanda Road and south again onto Moulton-New Knoxville Road, failing to stop at the stop sign at Washington Pike. Little stated he then activated his emergency lights in an attempt to pull Schoch over for a traffic stop, but the Subaru sped away.
Schoch was reportedly clocked at more than 115 mph. As both vehicles reached the Moulton-New Knoxville and Moulton-Angle intersection, they went airborne due to a mound in the roadway created by a recent paving project.
The police cruiser, a 2003 Dodge Intrepid, bottomed out and flames soon engulfed the front and back, disabling the vehicle. Fire, caused by a damaged oil pan, erupted near the driver's door. However, Little was able to flee.
Schoch and his passengers continued southbound.
A short time later, Little was summoned to the St. Marys Police Department and was given statements by three passengers who claimed to be in Schoch's car during the pursuit. One of the witnesses said he was injured when he hit his head on the roof of the vehicle as it became airborne. The witness said he would seeking medical treatment for the injury.
The trio told officers they were picked up by a man they called "Subi-Sam" and headed east out of the city of St. Marys. They also stated they asked the driver to stop several times throughout the pursuit, to no avail.
Auglaize County Sheriff's Detective Mike Eberle said the cruiser is "totaled" but the department is thankful no one was injured.
"The rear and undercarriage of the car was 'melted' by the heat of the fire," he said.
Flames burned through the bottom of the rear passenger seat and floor and the fuel lines melted. Leaked gasoline was burning when New Knoxville firefighters arrived on the scene. Fortunately, the full fuel tank did not ignite and the vehicle was towed back to the sheriff's garage.
Phone: (419)586-2371, Fax: (419)586-6271
All content copyright 2005
The Standard Printing Company
P.O. Box 140, Celina, OH 45822