By Ryan Hines
rhines@dailystandard.com
LIMA -- Celina and St. Marys had little trouble in the Division II sectional opening matches at Lima Senior High School on Saturday night.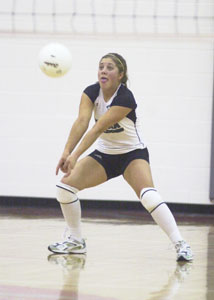 The Bulldogs and Roughriders each advanced in three-game victories and the two Grand Lake rivals will now meet with a sectional title on the line on Tuesday night, back at Lima Senior in the second game of the night at approximately 8:15 p.m.
Celina rolled past a severely undermanned Kenton squad, 25-9, 25-9 and 25-11 while St. Marys held off its Auglaize County rival for the second time this season in three games, 25-22, 25-21 and 25-17.
Celina-Kenton
If the Wildcats came in with hope against the top-seeded Bulldogs, that hope was dashed early on. Celina took a 10-0 lead in the first game, a 13-2 lead in game two and a 15-7 lead in game three to squash any thoughts of a Kenton comeback.
The week off for the Bulldogs leading up to the sectional tournament was huge according to Celina head coach Nikki Etzler.
"Having a week off was huge for us because it gave us a chance to work out some of the issues that we've had in recent matches," said Etzler. "The girls worked hard this past week and I think that it showed in our play today. We made some lineup changes and the girls executed their roles well. We're happy with the win. We wanted to set the tone for the rest of the tournament with a good win today and I think that we were able to do that."
One big change for the Bulldogs was the switch between Jess Wagner and Amy Harner. Wagner was the libero for most of the season and Harner the setter, but the two switched roles in the week off and the team responded with the switch.
The offense seemed to flow better with Wagner's sets and the defense seemed to get to more balls with Harner as the libero.
"I think the main switch that we made, with Harner and Wagner switching roles, really turned out well for us," said Etzler. "It was Jess' first time setting since eighth grade and she did a great job and I think that the intensity that Amy brings really helps our defense. We've experimented with this change for a little during the Defiance game and all of the Wapakoneta game and this is the best that we've looked."
Kenton's largest lead was 1-0 and it came in game three with the match being tied just three times, all in the third game as well.
St. Marys-Wapakoneta
The tournament seedings had Wapakoneta as the higher seeded team, but St. Marys defeated the Redskins for the second time this season in three games.
The Roughriders, seeded fifth, defeated the fourth-seeded Redskins to advance.
St. Marys first-year head coach Tricia Naseman admitted to being nervous for the postseason opener, but her Roughriders were able to put her mind at ease by their strong play from the start.
"I was nervous heading into this game because we had beaten them (Wapakoneta) before in three games and we knew that they would be ready to play," said Naseman. "I thought that they played better than they did the first time against us, but I thought that we played well too and that was good to see in our first tournament game. It's a good win and it feels great to get the first tourney win under our belts.
"I thought that our girls played strong and with confidence from the start," added Naseman. "They were seeded higher than what we were but we just went out and played well."
Wapakoneta led briefly in each of the three games, St. Marys' Lauren Schall seemed to make a big hit each time that the Roughriders appeared to be getting into trouble.
Schall had just 10 kills in the match, because of the balance from teammates like Alyssa Ahlers, Kate Bertke and Emily Shellabarger, but setter Jill Anderson looked for Schall in clutch situations.
"I think that Lauren just keeps getting better and better with each game she's been playing," said Naseman. "She's a leader for us and we need her to play well and she did that tonight for us. She came up with some big kills in some big situations."

Phone: (419)586-2371, Fax: (419)586-6271
All content copyright 2005
The Standard Printing Company
P.O. Box 140, Celina, OH 45822