By Tim Cox
tcox@dailystandard.com
Is Celina ready for a Starbucks or other similar trendy, upscale fare?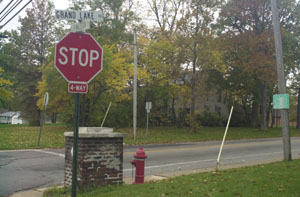 An Indianapolis developer this morning announced preliminary plans to build an upscale retail strip mall on the northwest corner of the intersection of Livingston Street and Grand Lake Road. The 2-acre parcel is now occupied by a home that is for sale.
Robert Enoch, a commercial real estate developer, told local government and community leaders about his plans during the quarterly breakfast meeting hosted by the Mercer County Community Development office.
Enoch said he has his eye on another prime corner in Celina but would not reveal its location.
Developers are looking to build a small, attractive strip mall that they hope will "appeal to retailers of a little higher scale," Enoch said. Starbucks is the only company Enoch mentioned by name but said developers would strive to find a nice restaurant, possibly with outdoor seating, and possibly a high-end clothing retailer, water sports equipment retailer or other shops for the proposed building.
Enoch said his company has prospered during the past 10-15 years by "following Super Wal-Marts around." The Wal-Mart Supercenter in Celina opened in the spring.
Enoch said he discovered Celina while working on a commercial strip project in Portland, Ind. The company recently had toured southern Indiana and Illinois looking for small communities to develop projects in but largely struck out. When he came to Celina, Enoch said he knew it was a potential gem.
"From a first impression, I say Celina's a winner," Enoch said. "This town feels vibrant to me. There are a number of things that stand out as an opportunity for a developer like myself."
Enoch said he likes the targeted property at Livingston and Grand Lake Road because it has many positive factors, including visibility from state Routes 29 and 703, its proximity to Grand Lake and nearby hotels and restaurants.
The project still would have to navigate through zoning and other planning issues before it could come to fruition. Enoch gave no definite timeline for his project.
Phone: (419)586-2371, Fax: (419)586-6271
All content copyright 2005
The Standard Printing Company
P.O. Box 140, Celina, OH 45822