By Ryan Hines
rhines@dailystandard.com
LIMA -- It was a second straight three-game victory to open the postseason for the Celina volleyball team as the Bulldogs defeated the Roughriders, 25-18, 25-15 and 25-21 in Division II sectional finals action at Lima Senior High School.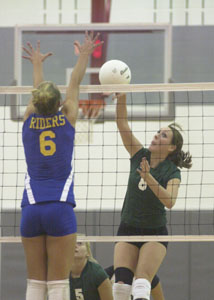 Another Western Buckeye League foe awaits Celina in the district semifinal as Van Wert dismissed Bath in four games to earn its sectional title. The district semifinal between the Bulldogs and Cougars will be held on Thursday at Lima Senior High School with a 7 p.m. starting time.
Celina head coach Nikki Etzler is happy to be advancing to the district tournament along with the play of her Bulldogs on Tuesday against the rival Rough-riders.
"The coaches are excited and I think that the girls are excited too with the chance to move on to the district tournament," said Etzler. "Van Wert (which Celina beat in three games earlier in the regular season) is a much better team than when we played them earlier in the year, so it should be fun.
"Our girls came out a little nervous tonight, but once the game got going, the girls really played well," added Etzler. "St. Marys played us tough for three games, I just thought that we made a few more plays in crucial situations than they did and that was the difference." St. Marys first-year skipper Tricia Naseman was disappointed with the loss, but not uphappy with the way that her Roughriders played against the top-seeded Bulldogs.
"Celina is a really good team and they are tough to beat, but we came out and played hard and we never gave up and that was great to see," said Naseman. "We were still coming at them in the third game, but we just couldn't get over the hump and get the win."
Celina came out focused in each of the three games, only falling behind at one moment, a 1-0 deficit in the first game and with one tie (1-1 in the first game).
The Bulldogs' service game helped get them out to a quick advantage against the Roughriders in game one as Betsy Hone had two aces and Lindsay Scheer added another ace to help Celina off to an 8-4 lead.
Once the serving got heated up, so did the hitters for Celina as Hone, Scheer, Kylie Dorsten, Liz Homan and Allison Knapke began to find their rhythm hitting the ball.
Hone and Dorsten paved the way for the Bulldogs in the first game offensively. Hone had seven kills and Dorsten added four kills, including three in a row to give the Bulldogs their largest lead of the first game at 21-11 forcing a St. Marys timeout.
"Every time that we step on the court, we are going to be the undersized team," said Naseman. "Celina is a big team up front with some very talented girls hitting the ball and blocking, so that type of matchup is very tough for us."
Celina opened things up right from the start in game two as Hone and Knapke helped the Bulldogs to an 8-2 lead with three and two kills, respectively.
The lead for Celina balooned to as many as nine points at 18-9 in the second game, but a late run by St. Marys closed the gap to six points at 21-15. Hone served out the second game with three service winners along with another two kills before Homan closed the door with a block at the net for a 25-15 win.
Another strong start keyed Celina in game three as the Bulldogs jumped out to a 14-6 advantage behind a pair of aces, four kills and a solo block from Hone. Several Celina unforced errors helped St. Marys cut the deficit to one point at 15-14 when Emily Shellabarger and Lauren Schall had back-to-back kills.
Celina won six of the next seven points to claim a 21-15 lead behind two kills from Scheer and the Roughriders couldn't get any closer than two the rest of the way.
Hone had 21 kills to lead all players in the match while also adding in four aces drawing praise from both coaches.
"Betsy does so much for us on offense, defense and with her serving," lauded Etzler. "She's our go-to player and we used her like that tonight. When we would get in a rut, we would set her and she would come through for us and get us back on track. When Betsy is on, she gives the whole team so much confidence and we feed off her."
"Betsy Hone is a very good player and she's very versatile and difficult to defend," said Naseman. "She can come at you from anywhere on the floor and hurt you in so many ways. We have no answer for her."
Homan added five kills and the pair of Dorsten and Scheer added four kills apiece. Schall led St. Marys with eight kills while Kate Bertke added five kills.