NEW BREMEN -- The Division IV sectional volleyball tournament held at New Bremen has always been a brutal affair with some very good teams going home early, and this year was no exception.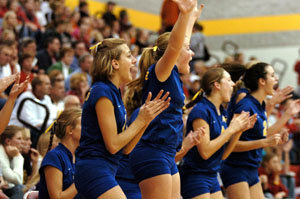 The Marion Local Flyers and the New Knoxville Rangers both earned sectional championships Tuesday night, and each did it in somewhat surprising fashion.
The Flyers, who lost to St. Henry in four games in the regular season, quickly dispatched the Redskins to earn a three-game victory, 25-20, 25-18, and 25-19. It was Marion's first victory over St. Henry since the 2002 tournament.
New Knoxville came in riding high after earning a split of the Midwest Athletic Conference crown last week, but struggled with a feisty Minster squad before taking over late and winning in four games, 23-25, 25-20, 26-24, and 25-20.
Marion Local and New Knoxville will meet Thursday at 7:00 p.m., just one week after the epic five-game match that gave the Rangers their MAC title.
MARION LOCAL/ST. HENRY
The Flyers came into the game short handed, as two-time all-state middle blocker Jenna Barhorst sat out with a bad back. Replacing her was her sister Megan, who like Jenna is 6-foot-3 but hadn't seen a lot of varsity action this year.
Little sister did just fine.
The younger Barhorst tallied five kills and three stuff blocks on the night and got plenty of help from her teammates as the Flyers beat the Redskins for the first time since coach Amy Steininger took over in 2003.
"I'm kind of speechless right now, but if feels good," said Steininger. "The girls played outstanding tonight. They played as a team, our blocking and defense were good, and we contained their two big guns in Betsy Hoying and Kayla Lefeld, who are outstanding players. We had some little ruts but we stayed calm and focused, and that was the key for us."
The Redskins took small early leads in all three games, but key runs in the middle of each game allowed the Flyers to take control.
With game one tied at five-apiece, Marion got three service points from Barhorst and then six more from Maria Moeller to build a 15-6 lead. St. Henry later put together a rally of its own to close to 17-14, but Marion scored four of the next five points to go ahead 21-15.
St. Henry made one more stab at the lead and pulled to within two at 22-20, but after a kill by Kristin Bergman and a St. Henry hitting error, Jenny Hartings finished the game with a kill on a free ball for the Flyers.
The Flyers waited a little longer to make their run in the second game, as the game was tied for the seventh time at 15-all when Barhorst knocked a kill and took to the service line. The sophomore banged four straight winners to give the Flyers a 20-15 advantage, and though the Redskins scored the next two points, the Flyers countered with four more to put force game point. After a kill by Lefeld, Hartings finished things again, this time with a stuff block.
St. Henry took an 8-6 lead early in game three, but Marion quickly went ahead 10-9 on a kill by Abby Niekamp. Like a baseball player that makes a great defensive play and then leads off the next inning, Niekamp stepped to the service line and smacked seven straight winners to give Marion a commanding 17-9 advantage.
St. Henry rallied to draw to within three at 21-18, but a pair of hitting errors gave Marion the momentum back and it finished the match with a kill by Stephanie Brunswick and a stuff block by Barhorst.
"We didn't have our best game tonight and Marion outplayed us," said St. Henry coach Lori Schwie-terman. "We started off playing ball in every game and then slowly got out of it. Why it happened or what we could have done different, I don't know. When you don't make plays against a team like Marion you find
yourself on the wrong side of the net."
After the game Steininger talked about the key runs the Flyers made.
"We got the momentum on our side a few times in the middle of games and we just got on a roll," said Steininger. "I don't know if it was St. Henry getting stuck in a bad rotation or us just feeling the momentum. I think our defense really set the momentum for us. We got some great blocks and great digs, and that carried over for us to the offense."

NEW KNOXVILLE/MINSTER
Looking at the records, it didn't appear that this would be a close match but it certainly turned out to be one.
New Knoxville came in with a sparkling 20-2 mark compared to Minster's 13-10 ledger, but by the action on the court it looked like both teams were evenly matched.
The Rangers have made hay all year with the powerful one-two combo of junior middle hitters Nicole Wright and Alycia Niemeyer, but the Wildcat defense was up to the task on this night.
Though Wright and Niemeyer finished with 26 and 17 kills, respectively, they had to work for everything they got.
In the first game, Minster took its first lead at 14-13 on an ace by Laura Morsey, but New Knoxville quickly knotted things up at 15-15. After a Ranger hitting error, Laura Gruber got the serve and reeled off three straight to give the Wildcats an 18-15 lead.
The Rangers later got as close as two points at 21-19, but the two teams traded points from there, resulting in a two-point Wildcat win.
It looked like the Wildcats might go ahead two games to none when a late seven-point rally gave them a 20-17 advantage, but the Rangers fought back with a memorable run of their own. Wright got the serve back with a kill and the Niemeyer took over with a stuff block and three kills, the last of which finished an eight-point run and ended the game at 25-20.
Minster looked to have control of game three when a seven-point run gave itself a 15-11 advantage. Like they had all night, New Knoxville fought back and got to game point at 24-22, but a service error and a stuff block by Gruber sent the game to extra points. The tag-team junior duo quickly put an end to things, though, as Niemeyer and Wright each whacked kills to end the
game.
Unlike the first three games, game four didn't feature a lot of big runs, but a little one at the end was all the Rangers would need.
With the game tied at 18-all Niemeyer knocked a kill and Meredith Fledderjohann followed with three service points to put the Rangers up 22-18. The teams traded points from there, giving the Rangers the game and a hard-fought match win.
"Minster's a great defensive team and a great serving team," said New Knoxville coach Jenny Fledderjohann. "We knew that in order to win we had to play defense with them and keep attacking them. The first game they were kind of second-guessing each other but after the first game was out of the way they knew they could believe in each other and cover each others behinds."
Minster coach Jennifer Craft wasn't surprised that her team's defense was the key to the match.
"Every time we've played New Knoxville our defense has been strong," said Craft. "We knew what we had to do and we played with a lot of heart. We would get down six or seven points but they climbed back every single time. We just had a few too many errors here and there and that's going to get you when a big game's on the line."
With a rematch with Marion looming, Fledderjohann thinks her team will be up to the task.
"We beat them in the regular season so that gives us confidence, but we know it's going to be a battle," said Fledderjohann. "We're excited to be there but we're here because we want to win, and we feel like we have the ability to play with about anybody right now."