By Janie Southard
jsouthard@dailystandard.com
ST. MARYS -- Mars will pass closer to Earth this weekend than it will be for the next 13 years, and Bill Grunden should get a real good view at his new observatory -- weather permitting.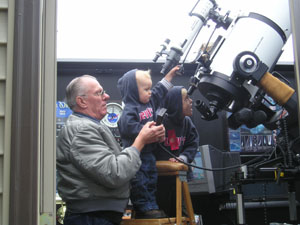 A dedicated amateur astronomer for many years, Grunden began the initial work on the 10-1Ú2-by-10-1Ú2-foot, vinyl sided structure in 1994. Six months ago, the observatory was completed and fully equipped with a rolling roof that allows the high powered telescope access to the sky.
He had kept the telescope in the garage before, then would roll it out and set it up each time. Since the coordinates change with each temporary setup, the programming needed recalibrated.
"There was just too much set-up time every time I wanted to use it. Plus, I had to put panels around it to block out city lights. The 'scope is on wheels, but it still weighs about 300 pounds," Grunden told The Daily Standard on Tuesday at his home with 2-year-old grandson, Carter Frey, sitting on his knee.
In the Wyatt Carter Observatory, named for his two grandsons, the telescope is now permanently mounted on a 2,000-pound concrete pier that is independent of the observatory floor. Of the Mars viewing, Grunden said it's position in the sky is higher than at its actual closest in August 2003 (then 34 million miles away).
"Being up higher on the horizon means it's above the junk in the atmosphere. In August 2003 it was low, not above the air debris and heat of summer. So if our weather is clear and Mars is not experiencing a sandstorm, there should be a nice view," Grunden said.
He explained that most astronomers have a love/hate relationship with Mars and it's mostly weather driven.
"For one thing, we can't predict when the winds on Mars will kick up. You think you're going to get a good view and, by the time you get set up there's a sandstorm and everything's fuzzy," he said.
Grunden has made his knowledge accessible to many young astronomy students plus some really young guys, his grandsons, Carter and Wyatt James Frey of Wapakoneta.
They often tag along with grandpa out to the observatory so Wyatt, 5, can search for his favorite planet, "the stripey one" (Jupiter) or his equally favorite sky attraction, the Dumbbell nebulae. Toddler Carter's interest in the observatory so far centers mainly on the rolling roof.
The Mars viewing this weekend will be best in the early hours, about 2 a.m. Saturday morning. According to M.D. Wilson of the Lima Astronomical Society, society members will be available at the Schoonover Observatory in Lima to assist people to look through the big telescope until at least midnight and beyond, as long as people are still in line.
As Wilson said of Mars two years ago at its closes, "it's a unique and tantalizing planet any time you see it."