By Gary R. Rasberry
grasberry@dailystandard.com
VAN WERT --Considering the first two meetings went the distance, Thursday's Division III district semifinal between Coldwater and Parkway looked to do likewise.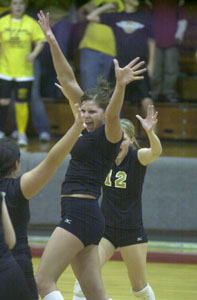 Coldwater took 1-0 and 2-1 leads in the match, only to have Parkway come back to send the match into a fifth and deciding game.
In the final game, Parkway broke away from a 5-all tie to win the final game 15-7 to advance to the district final on Saturday for the third straight season. Coldwater won the first and third games by scores of 25-17 and 25-21 with Parkway taking games two and four by 25-18 and 25-21 margins.
The Panthers (13-12) play Swanton in the district championship on Saturday at The Grand Canyon in Napoleon. Swanton defeated Evergreen 25-17, 25-16 and 25-15 at the Archbold district semifinal on Thursday.
"A good thing radio wasn't here tonight. They wouldn't have been able to keep up," said Parkway coach Todd Henkle. "We stressed that in the third and fourth games. Everybody had to fly to the ball and keep popping it up. The team that was more aggressive tonight came out on top." "We just went back and forth with them," said Coldwater coach Mandy Diller. "We got a little tense that last game and it really hurt us."
The eight-point win in the fifth game exorcised some of the demons from the conference meeting in Rockford, when Parkway led 8-2 in the fifth game, only to lose 15-13 to the Cavaliers.
"Eight-to-two for us in the fifth set hasn't been safe for us," said Henkle. "The only thing safe for us was getting to 15. Our ladies just played their hearts out tonight. They weren't just going to die out there."
The match was a story of runs. In game one, it was a late run on the serving of Karla Niekamp that made a close, 18-15, game a 22-15 game. In game two, Rebekah Roehm served up nine straight points, three on aces, to turn a 3-all game into an 11-3 game that saw Diller use both of her timeouts in the span.
In the third game, Coldwater jumped out 5-1 and answered every Parkway attempt to come back to win by four. In the fourth game, Parkway led by six at 16-10, only to have Coldwater tie the match at 17-all before several Coldwater hitting errors allowed the Panthers to get the lead and force a game five.
Coldwater won the right to serve, but the Panthers broke serve with a Roehm kill to go up 1-0. Elizabeth Smith served up an ace to go up 2-0 before Kelley Lefeld spiked one down to give Coldwater the serve back, trailing 2-1. Coldwater tied the match up at 3-3, 4-4 and 5-5 before Laura Art ended an extended rally with a dink to make it 6-5 for the Panthers.
Tiff Steinbrunner went back to serve and got the first point when Erika Snyder quick-set the ball to the unsuspecting Cavalier side to make it 7-5. After Diller called a timeout, Steinbrunner's next serve could not be returned in a Cavs serve-reception error. The next serve was also unreturnable for an ace to make it 9-5.
Art then scored a kill to make it 10-5 and force Diller to use her last timeout. Back-to-back hitting errors on the Cavaliers raised the score to 12-5 before Art was called for the lift giving the serve back to the Cavaliers.
An out-of-bounds spike by Coldwater sent the ball back to Parkway, where Roehm got match point at 14-6 with a kill.
Niekamp scored a kill for Coldwater before Roehm slammed the ball down hard for her 14th kill of the night to the Cavalier side to get the win.
"We didn't relax enough and go out and do what we needed to do," said Diller.
The match included plenty of highlight reel hitting by four of the area's top hitters. In addition to Roehm's -- the area's leading spiker -- 14 kills, Art added a match-high 15 kills. Coldwater countered with Lindsey Bruns' 13 kills and 10 kills each from Niekamp and Brittany Klenke.
"It was life or death out there on every play," said Henkle. "There was some major hitting going on out there. We just stayed a little more aggressive and kept fighting."
Phone: (419)586-2371, Fax: (419)586-6271
All content copyright 2005
The Standard Printing Company
P.O. Box 140, Celina, OH 45822