By Nancy Allen
nallen@dailystandard.com
Mercer County farmers and grain dealers said they were pleased and surprised with the average yield of crops, which they initially thought would be terrible.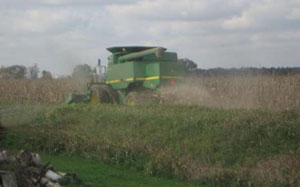 The crops this year were stunted by too little rain during the growing season and too much at the end that caused corn stalks to rot.
Rain that came during the critical pollination time did the most to help corn after many dry spells this summer, Mercer County Extension Agent Todd Mangen said.
"It was dry, but the times we got the rains it was crucial, whereas a lot of people from other counties didn't," Mangen said, adding that there were a few areas in the northern part of the county near Rockford that had poor yields from lack of rain. "Even Van Wert and on into Paulding County, they didn't get the rain we got when it (corn) was pollinating."
Mangen said yield amounts for corn and beans were "all over the board," making for an average overall crop. He heard talk of soybean yields ranging from 30 to 70 bushels an acre, but had not talked to enough farmers to get a grasp on the highs and lows for corn. Monty Heiby, the manager at the Mercer Landmark North elevator on state Route 118, said he heard reports ranging from 150 bushels an acre to more than 200 an acre for corn, while beans were in the mid 40s.
"It's a lot better than anybody expected with the drought and all," he said. "Seventy bushels an acre would be good for beans. Last year we were in the upper 60s and low 70s for beans and 170s and 180s for corn. Last year was quite a better year all around."
According to the United States Department of Agriculture National Agricultural Statistics Service, the average yield for soybeans in Mercer County last year was 53 bushels per acre and it was 180.4 bushels per acre for corn.
Most of the county's soybeans have been harvested and about three-quarters of the corn crop is off, Mangen said. Rain that came in recent weeks also slowed the harvest for some, and it also caused more stalk rot than usual this year. The condition was caused mostly by lots of moisture on the corn close to harvest, which made the stalks bend and fall over, he said.
At the Coldwater Grain North elevator on Thursday, Shawn Freewalt maneuvered a long grain truck below a chute emptying corn from a bin into the back of the truck as Adam Butler kept watch. The pair, both employees there, filled the truck with about 1,000 bushels that would be ground later that day for livestock feed.
"Yeah, there at first we didn't think we'd get the (120,000 bushel) bin full, but it's over three quarters full," Freewalt said, smiling and looking up at the bin. "It turned out a lot better than anyone thought."
Phone: (419)586-2371, Fax: (419)586-6271
All content copyright 2005
The Standard Printing Company
P.O. Box 140, Celina, OH 45822