By Nancy Allen
nallen@dailystandard.com
A Celina man bagged an escaped 1,000-pound buffalo late Friday morning after his wife struck the animal with her minivan the night before.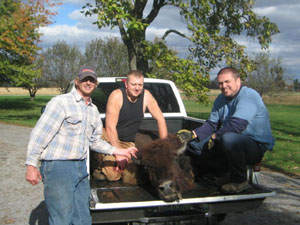 Kevin Jackson said he first shot and wounded the animal in a woods near his home on Howick Road between Riley and Harris roads. Jackson said his friend, Dave Thomas, St. Marys, shot it again moments later and brought the animal down.
Jackson's wife, Holly, reportedly struck the animal with her minivan just before 8:30 p.m. Thursday as she drove eastbound on Howick Road, a Mercer County Sheriff's office report says. The animal ran out onto the roadway and then continued on after being hit.
Kevin Jackson said the buffalo's owner, Bryan Morrow, 7568 Riley Road, Celina, gave permission to hunt the buffalo. Morrow didn't want anyone to hit it and get hurt.
Jackson and Thomas used a 12-gauge slug to shoot it. "We're gonna get it processed and eat it," Jackson said by phone. "We might have to mix some beef with it to put some fat in it."
Morrow raises American buffalo (bison), elk and other exotic animals at his home. It is not clear when the buffalo got loose. He was unavailable for comment.
Phone: (419)586-2371, Fax: (419)586-6271
All content copyright 2005
The Standard Printing Company
P.O. Box 140, Celina, OH 45822