FORT RECOVERY -- The St. Henry Redskins ended the 2005 season on a high note as they dominated both sides of the line of scrimmage in a 48-13 victory over the Fort Recovery Indians Friday night at Barrenbrugge Park in Midwest Athletic Conference action.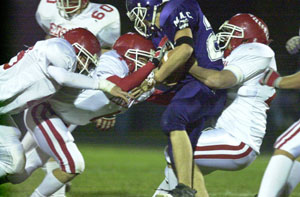 With the win, St. Henry closes the season at 5-5 overall and 4-4 in the MAC while Fort Recovery ends its season at 1-9 overall and 1-7 in league play.
The St. Henry ground game rolled up a season-high 300 yards on just 39 carries as the Redskins had 13 running plays of eight yards or more.
Andy Puthoff led a balanced running attack for the Redskins with 140 yards on just 11 carries. Kyle Bruggeman chipped in 114 yards and third-string tailback Ryan Huwer added 56 yards on 11 carries.
St. Henry junior quarterback Doug Griesdorn had an efficient night as he completed six-of-nine passes for 67 yards and two touchdowns. "We really wanted to keep things basic tonight," said St. Henry coach Jeff Starkey. "We wanted to win the line of scrimmage and establish the line of scrimmage and try to take away their running game and we did a good job of doing that."
"St. Henry is a big physical team and we expected them to run the football," said Fort Recovery coach Brett Niekamp. "We had a game plan to try and stop them, but we did not do a very good job of executing it."
The Redskins also had a great night on the defensive side of the ball as they held Fort Recovery to just 89 yards passing and 149 yards of total offense. The Indians had just seven first downs and the Skins forced three turnovers.
The St. Henry defense recorded 22 plays which it held Fort Recovery to two yards or less, including six plays for negative yardage.
St. Henry was in control of this game from the opening two offensive series. Fort Recovery went three-and-out on its first offensive series and St. Henry took over at its 42.
It took the Redskins just four plays and a little over two minutes to get on the scoreboard with Puthoff going 45 yards for the score to make the score 7-0.
After another stop by the St. Henry defense, the Redskins' offense was back on the field and scored quickly on just two plays with Griesdorn hooking up with Ryan Hartke on a catch and run to make the score 14-0.
The St. Henry defense came up huge to set up the next two scores. After the Hartke touchdown, the defense recovered a Michael Trobridge fumble at the Fort Recovery 30.
The St. Henry offense converted the turnover into points with Griesdorn connecting with Puthoff on a six-yard pass to make the score 20-0.
Late in the half, defensive back Josh Werling picked off a Toby Metzger pass and went 21 yards for the score to make it 27-0 at the half.
"We played excellent defense tonight," said Starkey. "We created some turnovers and made some plays and scored a defensive touchdown. It's important to be able to create turnovers and be able to turn them into touchdowns."
"We say all the time that turnovers are killers and that we have to take care of the ball and tonight we did not do a very good job of doing that," said Niekamp. "With the turnovers we allowed them to get the momentum and that was about it."
Phone: (419)586-2371, Fax: (419)586-6271
All content copyright 2005
The Standard Printing Company
P.O. Box 140, Celina, OH 45822