By Bruce Monnin
bmonnin@dailystandard.com
When the Division III portions of the state cross country meet are run Saturday at Scioto Downs, Midwest Athletic Conference fans will have plenty of area runners for whom to cheer.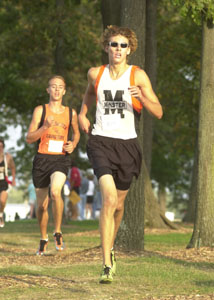 Minster and Versailles lead the way, each sending both its boys' and girls' teams. The Coldwater girls will also be competing, along with two Coldwater boys running as individuals (David Wilker and Jamie Kuess) while Sam Wierwille will be representing New Knoxville.

BOYS
Versailles and Minster are happy to be competing at the state meet after surviving the Troy regional. The Coldwater boys weren't so fortunate, getting sent to the tough Tiffin regional where they finished fifth, only a few positions behind the second, third and fourth-placing teams.
David Wilker and Jamie Kuess are representing Coldwater as individuals. Wilker arrives at the state meet for the third consecutive year, this time posting the fourth best time of all runners in the four regional meets.
"Right now David is running at his best," offered Coldwater coach Dan Pohlman. "The last two weeks he missed breaking 16 minutes by just a few seconds (only two runners across the state broke 16 minutes at regionals) and I know that's a goal in his mind. I feel David is right where he needs to be to compete with the best Division III runners in the state."
Versailles coach Mark Pleiman sympathized with Coldwater's plight.
"I feel bad for Coldwater, they were in such a tough region and deserved to be at state as a team."
The Tigers are coming off a third-place finish at regionals and are probably not a threat to win the overall title, however, they're striving to improve on last season's 11th-place state finish.
"There's no grand illusion that the boys should win state," admitted Pleiman. "But there's a large pack of teams who should finish close between 4th and 11th, and hopefully with a good performance, we can slide up to the top of that group."
Seniors Eric Wood and Clint Hufford paced the team at regionals and they are joined by three other seniors (Matt Harman, Adam Barga and Trent Barga) as well as junior Jeremy Shardo and sophomore Ian Niswonger.
In contrast, Minster is bringing a young team which has never experienced the state meet.
"Casey Heckman (the only senior on the squad) has done a very good job of preparing himself and the other athletes to be ready for the excitement of state and the pressure that goes with it," commented Minster coach Larry Topp. "Casey has been to state in track and is able to relate his experiences with the other runners."
Only one junior, Troy Niekamp, joins the lone senior. Sophomores Kregg Olding, David McGowan and David Bornhorst, along with the freshman duo of Joby Stechschulte and Tyler Richard, round out the Wildcat squad that finished second at regionals after a third-place finish at the MAC meet.
"The season was progressing as expected until about two weeks before the MAC. For some reason the team had a big setback and then again, only bigger, at the MAC meet," commented Topp. "The team seems to be back on track once again. I could not be more proud of the guys this year."

GIRLS
It will be like a reunion at the Division III girl's cross country meet. During the last two years, Minster, Versailles, Fort Loramie and Liberty-Benton have each finished in the top five, with Minster and Versailles winning the titles. In fact, the title has been won by Minster, Versailles or Fort Loramie each year since 1999. Look for a similar result this year.
Minster and Liberty-Benton appear to be the favorites this year with Versailles not far behind (though fans will remember last year that Minster won state after losing to Versailles in the regionals).
Fort Loramie might break up the gang by missing the top five, though the Coldwater girls will be looking to take their place.
Sarah Foster from Milan Edison looks to be the favorite for the individual title, but watch out for Anna's Sarah Schulze and Minster's Bernadette Burke to have an outside shot.
The Minster girls bring an exceedingly young team to the state meet this season.
"I didn't know what to expect this season with three-fourths of the team being freshmen," admitted Minster girls' coach Jessie Magato. "But I was pleasantly surprised at the first meet of the year and decided they were talented enough to have a shot to contend for the state title again."
Three freshmen, Lauren Fausey, Lei Bornhorst and Bernadette Burke, were the top three finishers for the Wildcats at the Troy regionals. But juniors Brigitte Sherman and Jenna Fausey along with sophomore Katie Dahlinghaus were the top three Wildcats to finish at state last year and should be the backbone behind this year's effort. Emily Freytag is a fourth Wildcat freshman competing.
"Our returning runners from last year are strong leaders," added Magato. "And our freshmen are level-headed. They keep everything in perspective."
Versailles also brings a young squad, led by the veteran junior trio of Kristen Smith, Kristen Grillot and Caitlin Liette. Sophomores Katie Mestemaker and Kristen Phlipot as well as freshmen Mary Prakel and Kristen Schulte round out the squad.
Coach Plei-man admitted that from the start, the Tigers' goal was to return to state and compete for the title. Last year the coach was pleased his program had reached the point where it was disappointing not to win the state title. This time, the veterans from last year's second-place finish will try to regain the crown from Minster.
For the Coldwater girls, state was their season goal.
"We returned six of our seven state participants from last year and the girls wanted to experience that again," stated coach Pohlman. "Our goal at state is to improve upon the 10th-place finish of last season."
The veteran team will use last year's experience to prepare themselves. Seniors Ashleigh Kahlig and Renee Hemmelgarn, juniors Tasha Stucke and Renee Laux, and sophomore Ashley Kanney all hope to impart their knowledge to freshmen Allison Honigford and Erica Schlater.
"Knowing the course, experiencing the start of the race and already experiencing the excitement that goes along with it all has helped the kids to know the importance of focusing and just running their race and not someone else's race," added Pohlman. "With two freshman girls being new to the state meet, I'm relying on their experienced teammates to prep them with what to expect."