By Betty Lawrence
blawrence@dailystandard.com
SPENCERVILLE -- A fondness for kaleidoscopes and love of prisms has led to a new business for Judy Beebe.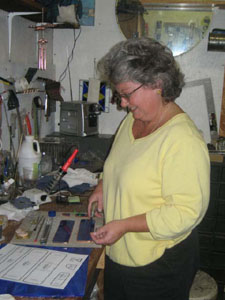 "I love colored glass, especially the bright colored pieces, and I like to mix it with texture," she says while at her glass shop, Short Panes, in Spencerville.
Beebe has been working with stained glass since she took a basic course at Apollo Career Center in Lima three years ago. She makes angels, wall hangings, night lights, trinket boxes and one-of-a-kind kaleidoscopes.
Copper-encased leading is featured on many of her helicopter kaleidoscopes. The blades (colored wheels) spin, emitting an endless array of colorscapes. The propellers on her glass bi-plane kaleidoscopes also whirl.
Next year, Beebe plans to expand her inventory with lighthouse kaleidoscopes. She recently completed a large stained glass panel for her kitchen cupboard, an area she hopes to expand. Soon she will be making a custom horse head piece for a friend's cupboard.
"One of the best things when making stained glass pieces is that you can never make two identical pieces. Each one is custom-made and will be different," she says.
Red glass is a favorite of many customers, she says, but is also the most expensive due to the gold in the glass.
"Some people like the brighter colors, but some like the pastels. I just wish they would come out with a pretty pink glass. I have a patterned pink, but not a solid pink," she says.
Her husband, Rich, has been supportive of her endeavors and helps whenever wood framing is required for the works of art.
For Beebe, soldering is the most difficult part of working with glass.
"Your glass pieces, after you cut them, are soldered together with lead, on both sides," she explains. "You have to have a steady hand with the soldering gun. You can't get it too hot, or your lead will melt all over the place and can't get it too cool either."
Quality stained glass leading should be smooth, not bumpy, she adds.
Beebe also stresses that glass workers need to be safety conscious.
Safety goggles and a face mask are the rule when she operates her band saw, and rubber tips protect her fingers as she cuts glass panels.
There is an optimal startup expense for anyone wishing to work with stained glass, she notes. Glass has to be purchased, along with patterns, leading and special glass working tools. She also recommends taking a stained glass course as the first step in pursuing the hobby.
"I have bought my tools and supplies as I go along. When I sell a piece, I put the money right back into my shop," she says.
Beebe also encourages people to go back to school after raising their children.
"At first, I was afraid to go back to school after the kids were raised, but I did and I didn't regret it. I have learned women should not be afraid, even when they are older, to continue their schooling," she says. "At Apollo, I had to choose a course, either on stocks and bonds, or stained glass. I'm glad I chose the glass," she says.
Beebe has found peace and contentment from working with the stained glass and says she is looking forward to the day when she can work full-time on her passion.