By Ryan Hines
rhines@dailystandard.com
VANDALIA -- After letting an opportunity slip away in the first game, Marion Local made sure that the slow start didn't come back to haunt them on Thursday in Division IV regional semifinal action at the Student Activity Center at Vandalia-Butler High School.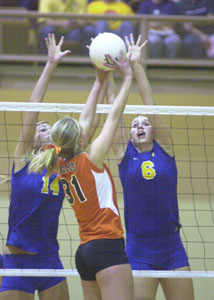 The Flyers lost the first game, 28-26, but rebounded to win the next three games in succession, 25-19, 25-18 and 25-14 advancing to Saturday's regional final. Top-ranked and undefeated Lehman (27-0) will be waiting for the Flyers (22-5) on Saturday for a 2 p.m. start after the Cavaliers won in three games over Sidney Fairlawn, also on Thursday.
A disappointing start only seemed to upset the Flyers as Marion Local dominated play in the final three games.
"We were disappointed in the way that we started the match tonight because we didn't use our block up to our capabilities," said Marion Local head coach Amy Steininger. "That's what we talked about between the two games because we are a blocking team and we only had two stuff blocks in the first game.
Once we got that corrected, it set up our defense behind the block and we played like we are capable of playing. "Our block was outstanding the last three games and that's what we have to do to be successful. Our size makes it difficult for our opponents, so we have to use that to our advantage," added Steininger.
Marion Local trailed for almost all of the first game, but was able to take the lead at 24-22 following a Jackson Center error and a kill from Kristin Bergman.
Maria Moeller then stepped behind the service line for game point, but served the ball into the net keeping the Tigers' chances alive.
"I was really upset with myself after the serve into the net and I knew that I had to make it up to my team," said Moeller.
Jackson Center took advantage as Kristi Platfoot made big play after big play down the stretch to lead the Tigers to an extended 28-26 opening-game win.
"We had our chances to still win that first game, but we took that as added motivation and it sparked us for the final three games," pointed out Steininger.
Steininger spoke to her Flyers about the importance of the block for the teams success prior to the start of the second game and the team responded.
Jenna Barhorst, Abby Niekamp, Stephanie Brunswick, Andrea Pohlman, Bergman and Moeller all contributed at the net for the Flyers in dominating fashion in winning the next three games.
"Coach talked to us between the first and second games about having to pick up our blocking," said Brunswick. "We have a great block and that sets up our defense behind it. Our block was a huge difference in the match after the first game."
Jackson Center did take an early lead in game two, leading by as many as five points before the Marion Local block began to control play at the net.
With the second game tied at 10-0, Marion Local got back-to-back blocks from Jenna Barhorst and one point later added a third block from Bergman to take a 13-11 lead. From that point on, it was all Flyers as they built as much as a seven-point lead before settling for a 25-19 win to even the match at one game apiece.
Jackson Center (22-5) held just one more lead in the final two games (1-0 in the third game) as Marion Local shut the door on the Tigers' season.
It was a balanced offense for the Flyers as Moeller ran the offense to near perfection over the final three games.
Niekamp led the way with 14 kills, Barhorst added 10 kills, Brunswick had nine kills, Bergman blasted seven kills and Jenny Hartings added six kills.
"Maria does a great job of getting us all involved in the offense and that makes it so hard on the defense when they don't know who will be getting the ball," said Brunswick. "We have a lot of capable girls who can put the ball away and Maria uses us all."
"My job is to get them the ball and they know what to do with it when I give it to them," said Moeller.
Barhorst was the dominant blocker with seven stuff blocks, while seemingly getting a hand on nearly every Jackson Center spike. Niekamp and Brunswick also added a pair of stuff blocks as well.
Lehman and Marion Local will be meeting for the second time this season when they hit the court on Saturday.
"Lehman is a great team, they aren't ranked 34th in the nation for no reason," said Steininger. "We played them in our first game of the year and it was their second game of the year and I think that both teams have really improved since the first time that we met."
"We didn't play up to our capabilities the first time that we played them and we want to go out and show that we can play with them and beat them," said Brunswick. "They're a good team and we'll have to play well from the start."
Marion Local will have a chance to avenge its fourth loss of the season on Saturday having already beaten New Knoxville, St. Henry and Crestview along the tournament trail after losing to them in the regular season. The only other loss on the year came against Old Fort and Marion Local could have a chance to avenge that loss as well if the Flyers can beat Lehman on Saturday and Old Fort reaches the state semifinals (where they would play Marion Local).