By Bruce Monnin
bmonnin@dailystandard.com
COLUMBUS -- When you compared the times from the four regional meets last week, it appeared Liberty-Benton would be a slight favorite at the girls state cross country meet, held on Saturday at Scioto Downs.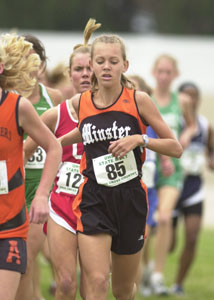 In fact, eavesdropping on various coaches' comments before the race, it was obvious that many thought the race was Liberty-Benton's to lose.
They were wrong.
The Minster Lady Wildcats dominated the race, their winning score of 45 breaking the old Division III state championship record of 50 set by Versailles in 2002.
In fact, when you place the Minster times into the results from the other divisions, it shows that the Wildcats would have easily won Division II and would have defeated Bowling Green by a small margin for the Division I crown. That's dominance for a Division III school.
"They listened. They did exactly what they were supposed to do," explained an ecstatic Minster coach Jessie Magato. "I know that they are special girls and I know that they worked so hard together and they are one big group. Nobody fell apart and they all pulled each other along. It was wonderful to see."
A team with five freshmen, the Minster girls had far from their best performance the week before at the regional meet. Their inexperience showed as several runners, including usual number-one runner Bernadette Burke, started faster than normal and faded later, posting times much slower than expected.
That served as motivation for this week at state.
So while the move of the Minster girls near the front to start the race was encouraging, perhaps a more reassuring sight was seeing none of them trying to keep up with Milan Edison's Sarah Foster, the eventual winner of the race.
At the two-mile mark, Burke was far behind Foster but still in third place overall. She continued to stay with the pack of runners behind the leader and pulled away from them at the finish to place in second place overall.
"Last week she (Burke) really had a rough race," added Magato. "After last week, I was nervous and I told her she didn't need to get second, she just needed to be number one on the team score. Good thing she didn't listen to me!"
"I wanted to pace myself and make sure that I didn't burn out," explained Burke. "I got a little too excited last week (at regionals). I just felt good and coach said 'if you feel like you can, just trust yourself'."
While the front of the race attracts most of the attention from the fans, back in the pack is where championships are won. In an incredible display of team strength, the next five Minster runners, Brigitte Sherman, Lauren Fausey, Lei Bornhorst, Jenna Fausey and Katie Dahlinghaus all finished within 12 seconds of each other and all in the top 30 in the standings.
That gave Minster six runners who finished under 20 minutes. Division I champion Bowling Green only placed four runners under 20 minutes and no other team at state, in any division, had more than three such finishers.
And while only the top five runners in the standings count in the scoring, Minster's seventh runner, Emily Freytag, was able to contribute by finishing high enough in the standings to finish ahead of the number five runner from almost every other team in the race.
This is the sixth state cross country title for the Minster girls, including their fifth in the last seven years. It is also the 21st championship overall to be brought back to Minster high school. And with no seniors on this team, the girls will be favored to contend for more titles in the future.
While the Minster girls were winning their championship, the Versailles Lady Tigers were putting in a quality effort of their own.
Kristin Smith was leading the way for Versailles when misfortune befell her just prior to the finish. She collapsed on the course and dropped from a probable top 10 finish to finishing 143rd.
"She got three miles into the race with about 100 meters left to go and her body didn't want to do what her brain was telling it to do," explained Versailles coach Mark Pleiman. "She was in place to probably have one of her better races of the season."
"You just have to love kids like that who aren't afraid to put it all out there," added Pleiman. "I told her I would rather you go down like that, giving it everything you have, than to be safe and comfortable, because you don't get any better after that. She has another year and she'll be back here, no doubt."
Even with Smith's fall, Versailles still managed to finish fifth, a testament to the depth of their team. The stats show that if Smith could have finished 10th, the Tigers would have finished third in the team standings, only a few points behind runner-up Liberty-Benton.
"Our team did a wonderful job," continued Pleiman. "We were fifth ranked coming in, and our number-one runner doesn't finish the race until quite awhile later. From where we were ranked we did an excellent job. We've been working hard all year and I couldn't be prouder of them."
A little farther back in the field, the Coldwater girls were finishing 13th in the team standings.
Ashley Kanney led the way for the Cavaliers, posting a time of 20:23, slightly slower than her time from regionals but over a minute faster than her performance at the state meet last year.
"I didn't do as well as I was hoping for, but I felt like I gave it my all," stated Kanney.
She also felt her experience from last year's meet helped out this year. "It (the state meet) was a lot easier this year, I knew what was all going on."

Girls Division III
Team Standings
1. Minster 45; 3. Findlay Liberty-Benton 100; 3. Gates Mills Gilmour Academy 113; 4. Cuyahoga Valley Christian Academy 115; 5. Versailles 147; 13. Coldwater 306

Individual Results
(Top five and local)
1. Sarah Foster (Milan Edison) 18:29; 2. Bernadette Burke (Minster) 18:55; 3. Katie Gillespie (Cuyahoga Valley Christian Academy) 19:02; 4. Sarah Schulze (Anna) 19:07; 5. Gita Narayan (Cincinnati Country Day) 19:08; 11. Mary Prakel (Versailles) 19:33; 19. Brigitte Sherman (Minster) 19:41; 21. Lauren Fausey (Minster) 19:43; 25. Lei Bornhorst (Minster) 19:48; 29. Jenna Fausey (Minster) 19:52; 30. Katie Dahlinghaus (Minster) 19:53; 42. Kristen Grillot (Versailles) 20:11; 51. Ashley Kanney (Coldwater) 20:23; 61. Tasha Stucke (Coldwater) 20:38; 64. Emily Freytag (Minster) 20:41; 68. Katie Mestemaker (Versailles) 20:47; 70. Caitlin Liette (Versailles) 20:49; 75. Kristen Schulte (Versailles) 21:00; 86. Kristen Phlipot (Versailles) 21:13; 109. Erica Schlater (Coldwater) 21:54; 118. Allison Honigford (Coldwater) 22:12; 122. Renee Hemmelgarn (Coldwater) 22:19; 129. Renee Laux (Coldwater) 22:53; 134. Ashleigh Kahlig (Coldwater) 23:03; 143. Kristen Smith (Versailles) 24:14.