By William Kincaid
wkincaid@dailystandard.com
A Wright State University-Lake Campus group is fed up with deadly carcinogenic smoke floating near the entrances of the school.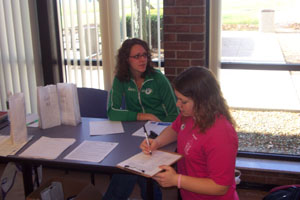 Colleges Against Cancer, a newly founded campus organization, is circulating a petition this week to end smoking around all front entrances of the campus.
"This will eliminate much of the second-hand smoke students and faculty must suffer when going to classes, especially by the front entrance," said Lindsay McEldowney, president of the local chapter.
If the group's proposed petition passes, ashtrays from the front entrances will be removed and fines may be imposed on smokers caught lighting up in the smoke-free zones.
The group wants smoke-free areas to include all entrances, exits, sidewalks and outdoor picnic areas. McEldowney said the group received both permission and support from various school administrators. Campus Dean Anita Curry-Jackson, according to McEldowney, told the students they must first complete a petition before legislation can proceed.
Although she did not give the chapter an exact amount of needed signatures, McEldowney said the group's goal is 104.
Once completed, the petition will need to be approved by Steve Moore, coordinator of athletics and student activities; the student senate; Stanford Baddley, director of student services and enrollment management; and finally Curry-Jackson, the dean.
If implemented, smokers will be able to smoke only in the exits in the back of campus.
According to McEldowney, the local Colleges Against Cancer chapter and Moore share a common vision: a campus-wide abolition of smoking.
"I've heard people say 'I just love the smell of second-hand smoke early in the morning,' " McEldowney said. "It's not their (smokers) right to inhibit our health."
Michele Rindler, a non-smoking Lake Campus student unaffiliated with the group, said she supports the petition.
"I can't stand the smell of smoke," she said.
She also said she has learned more about the perils of smoking from the group's posters and flyers.
The Daily Standard also talked with a smoker who simply wished to be called by her first name only. Linda, a student and lab assistant, said she is not against the petition, but is against making the entire campus smoke free.
Linda said she tries to be a polite smoker and respect the rights of nonsmokers.
"This is not a Communist country," she said. "If people want to smoke, they should be allowed to smoke."
The Colleges Against Cancer chapter, which is funded by the American Cancer Society, also will be having various anti-tobacco activities all week.
Smokers can visit the petition site, located in the campus cafeteria, and trade their cigarettes in for a "quit-kit." The kit contains the deadly facts about smoking and a handful of candy, suckers and gum. The sugary goodies are said to help curb the oral fixation of cigarettes and chewing tobacco.
On Wednesday a five-year survivor of oral cancer, caused by a lifetime use of chewing tobacco and cigarettes, will talk in the auditorium about his decisions and their unfortunate consequences. McEldowney said many teachers are offering their students extra-credit to attend the hour-long presentation.
Also, students will be bombarded with the facts about smoking while walking to class. The Colleges Against Cancer Society chapter lined the walls with posters and flyers about the detrimental effects of tobacco.
"Every cigarette contains over 4,000 toxic substances," one flyer reads. "You're lucky you survived this long."
Another flyer reads, "I have enough money to pay off your student loans a million times over, yet I kill one-third of my consumers."