By Tim Cox
tcox@dailystandard.com
Mercer County overwhelmingly approved new property taxes to generate additional revenue for Cheryl Ann Programs.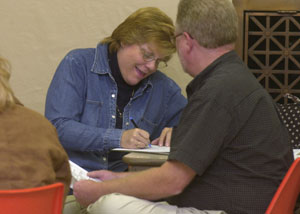 The six-year, 2.42-mill property tax levy was approved countywide by a nearly 2-to-1 margin. The levy picked up 8,056 votes in favor of it, with 4,209 votes against the tax issue. The 65.7 to 34.3 percent margin surprised even the staunchest supporters of the county Board of Mental Retardation and Developmental Disabilities (MR/DD) program.
The tax issue, which will raise an estimated $1.75 million annually, passed in all 37 county precincts.
"This is incredible ... far beyond my wildest dreams," MR/DD Superintendent Mike Overman said as the final vote totals rolled in Tuesday night at the county courthouse.
"It's really rewarding to have it pass this way," MR/DD board President Warren Menchhofer said. "It's sobering. I thank the voters for their support, and we will continue to do the best we can to serve the people of Mercer County." Overman and Menchhofer both noted the campaign efforts of the agency's 60 employees and the families of its 360 developmentally challenged clients it serves.
"We really let the families speak for us," Overman said.
About 26 percent of the money would be to offset lost revenue from state and federal sources and the costs of state mandates. The remaining 74 percent represents money that would be pumped into providing new services and addressing maintenance issues.
The new tax will cost the owner of a $100,000 home about $80 annually.
The $1.75 million in additional annual revenue is the first new money the program has sought since 1999. Voters renewed that five-year levy in 2004, also by a wide margin.
Without passage of the new levy, MR/DD officials had said they would be forced to make cuts in services, including possible layoffs of employees.
"Mercer County is a special place where the people take seriously helping those who need help," Overman said.
Phone: (419)586-2371, Fax: (419)586-6271
All content copyright 2005
The Standard Printing Company
P.O. Box 140, Celina, OH 45822