By Gary R. Rasberry
grasberry@dailystandard.com
ROCKFORD -- From 2-7 to the state final four.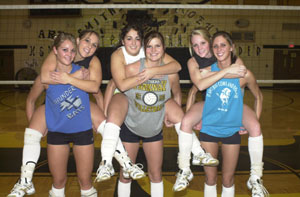 A perfect lead for a movie script.
The Parkway volleyball team worked its way from an end-of-season losing streak to being two matches away from capturing a state volleyball title.
Not like it's a new thing for the Panthers to not win the Midwest Athletic Conference title and do well at the state well. In winning state crowns in the 1996-97 and 1997-98 school years, the Panthers were runners-up behind St. Henry in the MAC both seasons.
Parkway was 10-7 going into the tournament draw, but in the waning weeks of the season, the Panthers had to face the brunt of the MAC schedule -- St. Henry, Versailles, New Knoxville and Minster -- along with non-conference powerhouses Crestview and undefeated Lehman (also playing at state in Division IV). The end result was losing five straight to end the season and entering postseason play with a record of 10-12.
"I kind of anticipated we would have a rough final two weeks," said Parkway coach Todd Henkle. "At tournament draw, we decided to definitely play (not take the bye), get a couple of wins under our belt (against Wayne Trace and Paulding) and start feeling better about ourselves as far as putting some wins in the win column."
The first two postseason wins set up a rematch with rival Coldwater. Just a few weeks before, Parkway led 7-2 in the fifth game, but lost the match.
"Going into that district semifinal against (Coldwater), everybody was on edge, but we were pumped up," said Henkle. "Mentally we knew we could get them. We beat them four times last year and split with them this year. We probably played one of our best matches up to that point."
Helping get the team ready for the Coldwater rematch and the district final with Swanton were the six seniors -- Rebekah Roehm, Laura Art, Tory Henkle, Erika Snyder, Tiff Steinbrunner and Elizabeth Smith -- who had two regional trips under their belts.
"With some of those seniors coming back, with Bekah and our two setters, the experience factor and keeping calm was a big factor, I think, for us," said Henkle.
Posting the big wins against Centerburg and Margaretta at regionals to earn the first final four berth since the 1997-98 season has everyone in the Parkway school district bubbling. Henkle is hoping to keep his team going as usual.
"We've been telling them what our routine is going to be, what to expect and what's going to happen when we get down there," said Henkle. "Pretty much so once they walk in they get a good idea of what the atmosphere is like. We do a couple different things in warmups to get them ready to get them out there on the court.
"Preparation is the big key for us going down there. Westfall's played there the last (couple) years. They know it's a big facility, but I don't think it will be that big of a key when we go out and play. It may take us a little bit to get used to it, but that's natural."
One thing Henkle is hoping for is that the other teams in the state final four underestimate the Panthers because of the 16-12 record.
"Going in with 12 losses wasn't a big concern. I kind of liked it," said Henkle. "It made people kind of look at us and think '16-12, they're not a good team.' If they do their homework, they'll find the teams that we did play have us prepared for Friday.
"Whatever we do down there is a great, but it's a feat just to get there. It's going to be the gravy. We're going down there with the attitude to win. I don't see any competition down there that is anymore severe than what we've seen already -- The Old Forts, Lehmans, St. Henrys. Show me a team any better than them before we get to Division I?"