By Gary R. Rasberry
grasberry@dailystandard.com
FAIRBORN -- Instead of thinking about the 10-12 regular season record his team had entering the tournament, Parkway volleyball coach Todd Henkle preferred to think of his team of being 7-0 -- the number of wins in the tournament.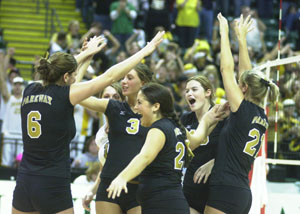 The Panthers have a shot for 8-0 today after defeating Williamsport Westfall in four games in the Division III state semifinals at the Nutter Center on the campus of Wright State University on Friday.
Parkway (17-12) plays Cleveland Villa Angela-St. Joseph today at 4 p.m. for the state championship. The Vikings (24-4) swept Anna in three games -- 25-16, 25-20 and 25-16 -- to advance to their first state championship match since winning the title in 2001.
"Coming in here with this record, yeah, we knew it wasn't spectacular," said Henkle, looking to win his third state title as Panther coach. "I really don't care about that, our record is 7-0 right now. Those teams we played during the season have prepared us."
The Panthers came up with one of their most dominant matches, both on the attack and on defense, in winning the opening two games 25-16 and 25-13. The Mustangs (23-4) won the third game 25-23 before the Panthers scored the first eight points of the fourth game on the way to a comfortable 25-16 win. Defensively, the Panthers out-digged the Mustangs by a 76-55 margin. Four Panthers had double-digit dig totals, led by Rebekah Roehm's 19.
"I'd say Laura (Art) had one of her best defensive games tonight," said Henkle, referring to Art's 12 digs. "I thought she did a great job in the back row. Once we figured out they were hitting off our blocks, we just made sure we kept our defense in and had to dig a lot more balls."
On the attack, Parkway dominated, recording an attack percentage of .254 with 57 kills. Roehm, the Panthers' All-Ohio hitter, came up huge with 33 kills and an attack percentage of .435.
"That's really good," said Henkle of the team attack percentage. "That's the key against (VASJ) tomorrow. We have to move our attacks around and not be too focused on Bekah and Laura. If we do that, we can run 3-4 options on the attack."
In the first game, the Panthers jumped out with a 6-0 run to take an 11-4 lead. Westfall got as close as 17-14 before the Panthers put the game away, taking advantage of hitting errors by the Mustangs, who finished with a weak .094 attack percentage on the night.
Game two had the looks of a royal blowout as Parkway led 20-9 at one point before the Mustangs got back into the game.
In the third game, Parkway saw a decent 11-7 lead wane as several hitting errors and the hitting of Samantha Graham and Tara Burleson led to ties at 14, 15, 16, 17, 18, 19, 22 and 23 before a kill by Burleson made it 24-23. An ace by Brittany McBride gave the Mustangs some hope of getting back into the match after picking up the victory in the third game.
That soon changed when Tory Henkle came up to serve to start game four. Tiff Steinbrunner scored a kill to start the game and Mustang hitting errors intertwined with kills by Roehm and Karrison Clifton made the score 8-0 before Westfall was able to tally a point.
Westfall managed some points, but the point differential was too much. The closest the Mustangs got was 13-10 before the Panthers re-cushioned their lead. Eight hitting errors wiped out the eight kills Westfall had in the match as the team had a .000 attack percentage in the fourth game.
"After that third game, coach (Jeff) Marbaugh gets in their after them to get the intensity back," said Henkle. "That's what we came out with. The 8-0 lead really pushed things open for us."
"Those first six points, I don't think it was anything they were doing but what we weren't doing," said Mustangs' coach Lori Merriman, who lose in the state semifinals for the third straight season. "I don't think our passing was too good. Then when we had good passes, our sets weren't too good."
Now the Panthers face a solid VASJ team. The Vikings were led by outside hitters Margo Amigoni and Shannon Davis, who had 11 and 13 kills each. The Vikings held Anna to a .036 attack rate with 30 hitting errors.
"We've seen that style of team before. With our schedule, we've seen about every style -- tall teams, short teams, quick defense. I think we got to see quite a bit of what to run to win. I think if we come out focused, pass, serve well, run our offense, I think we can cause them some problems too," concluded Henkle.