By Gary R. Rasberry
grasberry@dailystandard.com
FAIRBORN -- There have been moments where players have found that extra level to spark a team and carry a team to glory.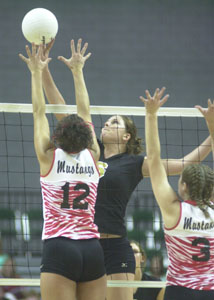 But if you're Rebekah Roehm, who already plays on a high level, you just add ceiling space to the penthouse.
Coming up big all season and picking up her play in the tournament, Roehm came up with the blows that helped send Westfall to the wayside.
The All-Ohio senior middle hitter had 33 kills, 19 digs, four total blocks to help the Panthers make the state championship match for the first time since the 1997 state title campaign.
That averages out to just over eight kills per game on Friday, or over two kills per game better than the 5.84 kpg that earned her the area's regular season kills title. "It just something you have to do," said Roehm. "You've just got to put the ball away and got to know what to do when you do it to get the job done. That's what I want to do."
Roehm was in elementary school the last time the Panthers were at the Nutter Center for state volleyball. From the seats, Roehm was able see the hard hitters from that era -- Amanda Schumm and Jessica Wilson -- power the ball down.
"It was just amazing watching them," said Roehm. "They were so big and could just hit so hard. It's amazing we're actually playing how they played. You always look up to those girls. You never think you may be in that place sometime."
Parkway coach Todd Henkle, who along with assistant Jeff Marbaugh guided the Panthers to their first two state title trips, brought in some of the players from the state title teams in 1996 and 1997 to talk with this rendition of the Panthers about what to expect during the weekend.
"They were just saying not to be nervous," said Roehm. "They've been there before so they know exactly what it has been like. They said not to be nervous and to get it done."
As much as Roehm has been the ace of the team, the rest of the Panthers have stepped up their play over the season. Roehm knows she is not the be-all of the team.
"It's not like our team is based on one thing," said Roehm. "All of us do our job. It helps to know that if I can't do something, the other girls are going to pick it up and take care of business.
"We all realize we have key players we have to rely on," said Henkle. "And we rely on her to get the job done in crunch time. She's just so dominant on the floor. She plays back row very well. She had good hands. Her jump serve (which tallied over 100 aces this season) was a little off tonight (one ace, three service errors). We'll get that cranked up a little tomorrow."
The opposition knew that Roehm was special as well.
"We were trying to double her. She's a smart player and a good player," said Westfall coach Lori Merriman. "I thought she was listening to her coaches and making the adjustments. We were missing the blocks and not getting there in time. That's a credit to their setters (Tory Henkle and Erika Snyder). (They) went to a couple of other players and keep us off-balanced.
"But she's a good player. Sometimes you can't stop her."
Phone: (419)586-2371, Fax: (419)586-6271
All content copyright 2005
The Standard Printing Company
P.O. Box 140, Celina, OH 45822