FAIRBORN -- The 19th-century British philosopher and Prime Minister Benjamin Disraeli once said "There are lies, there are damn lies and there are statistics."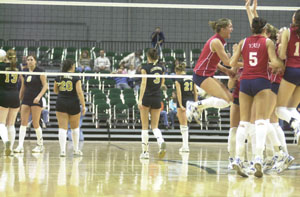 What Disraeli basically was saying is that on most occasions one can look at a set of numbers and come up with as many different conclusions as you have people looking at the numbers.
Anyone who was privy to the final stat sheet of Saturday's Division III state final match between Parkway and Cleveland Villa Angela-St. Joseph can come up with just one conclusion, a total domination of the match by the Vikings.
Villa-Angela did a great job of playing defense both in the back of its defense and at the net. The back of the Viking defense was credited with 65 digs, with four different Vikings -- Margo Amigoni, Shannon Davis, Donna Espstein and Colleen Lynch -- all recording double figures in digs.
The Viking defense shut down the Parkway hitting game for the match as they held the Panthers to a .000 hitting percentage. Parkway had just 27 kills and comitted 27 hitting errors in a total of 132 attack attempts. "Villa-Angela had great blockers and we knew that coming in and they did a great job of stopping our attack," said Parkway coach Todd Henkle. "Our passing game was not the greatest and that hurt us trying to get the ball to our best attackers. It's really tough to make passes here in the Nutter Center because of the wide open space and that space sometimes causes you to lose focus and you can quickly lose the edge that you have to have."
Parkway's hitting game was non-existent in the first two games as it committed 12 errors and had just 10 kills in 46 hitting attempts for a hitting percentage of a negative .043. In the second game Parkway had just seven kills and committed 12 hitting errors for a hitting percentage of a negative .125.
Laura Art led the way for Parkway with 10 kills and a .143 hitting percentage. Rebekah Roehm had 12 kills in 56 attempts and seven hittinng errors for a .089 hitting percentage.
At the net, Villa-Angela also dominated as it recorded 13 blocks to just five for Parkway. Hannah Groudle had three blocks to lead the Vikings.
"I had a talk with my two middle hitters after watching Parkway yesterday and I told them that the whole match could hinge on their play on Roehm and their hitters," said Villa-Angela coach Mark Royer. "We saw what they liked to do offensively and I thought we did a great job of taking things away."
"When you get blocked like we did, it definitely changes the way you try to hit the ball," said Roehm. "When they started blocking us, we tried to hit around them and when we did that we started to have some errors."
Offensively, the Vikings were equally impressive not only on Saturday but for the two days of the state finals. On Saturday, Villa-Angela hit a .210 percent clip, with 39 kills and just 13 kills in 124 kill attempy.
In the first two game that the Vikings dominated in the state finals, they hit .243 in the first game with 12 kills and three errors in 37 attempts. In game two, they had just two errors and 10 kills in 32 attempts for a .250 hitting percentage.
Davis led the way for the Vikings as she had 12 kills and just one hitting error in 31 attempts for a .355 hitting percentage. Amigoni also had 12 kills and three errors in 36 attempts for a .250 hitting percentage.
For the weekend, Villa-Angela had 78 kills and just 22 hitting errors in 223 hitting attempts.
Phone: (419)586-2371, Fax: (419)586-6271
All content copyright 2005
The Standard Printing Company
P.O. Box 140, Celina, OH 45822