By Shelley Grieshop
sgrieshop@dailystandard.com
WAPAKONETA -- A civil trial began Monday in Auglaize County Common Pleas Court to decide who was responsible, or if anyone was, for a silo explosion at Hoge Lumber Co. in New Knoxville in October 2003, that took the lives of two New Bremen firefighters.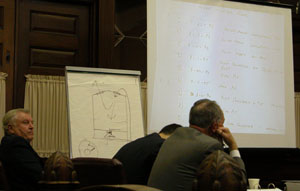 "There will be a lot of evidence in this case about faulty (silo) maintenance," Attorney Mike Neltner told jurors in his opening statement on behalf of Midwest Claims Service, the insurance company for the village of New Bremen.
Midwest already has reimbursed the village nearly $180,000 for firefighting equipment damaged in the explosion and is seeking full reimbursement and other costs from Hoge Lumber Co. Midwest claims owner John Hoge and several of his employees are responsible for the fire and explosion due to their negligence.
Midwest also claims Hoge and others tried to hide evidence they feared could make them libel in future litigation. He alleged that John Hoge, a chemical and mechanical engineer, did nothing to help the day of the explosion except stand by and watch.
Neltner told jurors that firefighters were called to Hoge Lumber Co. on 21 occasions since 1992. Testimony later in the day revealed eight of those calls were return trips to extinguish the same pile of burning wood chips. Neltner said Midwest acted "like a good corporation" quickly reimbursing the village of New Bremen in 2003 for the damaged firefighting equipment. But Midwest "also wants to make sure the 22nd time doesn't happen," Neltner added.
David Patterson, the attorney representing John Hoge, his company and employees, told the eight jurors that "nobody knows for certain why the fire happened" or who is to blame for the deaths of the firefighters and property damage.
"Firefighters will tell you that fighting fires is a risky business ... Sometimes things happen beyond a firefighter's control, beyond anybody's control," Patterson said in his opening statement.
Patterson told jurors: "This case is not about their deaths," referring to New Bremen firefighters John Garman and Ken Jutte who were killed while fighting the silo fire. "This is about an insurance company who wants to get their money back."
Patterson reminded jurors that Neltner represents the insurance company, not the village of New Bremen or the firefighters' families.
"They (Midwest) paid almost $180,000, then looked around to see who they could file a suit on. Keep that as a backdrop ... then ask yourselves, 'Why is this case going on?' "atterson said.
Testifying first for Midwest was New Knoxville Fire Chief Scott Schroer. Schroer testified that he and his department had no prior training on how to approach silo fires before October 2003. Before that date, he did not know the difference between a "conventional" silo and an "oxygen-limiting" silo, he said.
Oxygen-limited silos are completely sealed and do not allow oxygen in. Because of their structural nature, experts say they are the most dangerous for firefighters to extinguish.
The parties disagree on what type of silo it was that exploded.
At the request of Neltner, Schroer recalled the events of the day and the call he made for mutual aid to request an aerial truck from the New Bremen Fire Department.
"We climbed one (a silo at Hoge Lumber) in 2000 and didn't want to do that again," Schroer said.
Under cross-examination by Patterson, Schroer said he talked with other firefighters before sending three New Bremen firefighters to the top of the silo. The trio were instructed to spray water on the burning wood chips from above while other firefighters poked the smoldering debris from an open hatch below.
"Then I heard a big swish, then an explosion," said Schroer, who testified he was about 50 feet away when the cement lid of the silo blew off.
Schroer, who was asked to describe several photos on an overhead projector in the courtroom, said the scene was pretty chaotic after the explosion as he quickly called for ambulances.
"You don't hold John Hoge responsible for this, do you?" Patterson asked Schroer.
"No, I do not," Schroer answered, as Neltner quickly objected to the questioning.
"Strike that from the record," the judge instructed the jurors, explaining it was not appropriate.
Neltner, in his opening statement, accused Hoge and his employees of clearing evidence from the scene before the insurance company could examine it.
In Patterson's opening statement, he told jurors Hoge workers didn't clean up the scene for three weeks until getting the OK from the State Fire Marshal's Office. Patterson also said it was 11Ú2 years after the explosion before Midwest first contacted the lumber company about the incident.
Also testifying Monday was State Fire Marshal Investigator Keith Loreno and Hoge engineer Todd Eberle.
Loreno testified that during his investigation he saw bags of debris with several cigarette butts inside, lying on a conveyor belt in another area of the business. Neltner, without collaboration by Loreno, hinted that similar flammable trash placed inside a silo hopper could have caused the fire.
Under cross-examination by Patterson, Loreno said the fire marshal's report ruled that cigarette butts were not a likely cause of the fire. The report, released several months after the silo fire, said a malfunctioning pulley likely led to a build-up of friction and heat that ignited the wood chips and debris inside the silo. The fire marshal ruled the silo fire accidental.
The trial continues today and is expected to last most of this week.