By Gary R. Rasberry
grasberry@dailystandard.com
ST. HENRY -- Kayla Lefeld, the 2005 Midwest Athletic Conference volleyball Player of the Year, adds to the St. Henry tradition of players heading off to play on the collegiate level after signing a national letter-of-intent to play volleyball at Cleveland State University.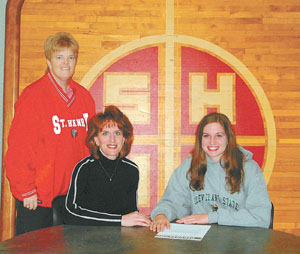 "I was really impressed by their coaching," said Lefeld, who will major in graphic design. "They all really came together and bonded really well. They're just one big family. That really got to me. It's something that I wanted. ... They look like they're having a good time all the time."
Lefeld said that her motivation to play at such a high level came from two sources. One was cousin Diana Wuebker, who currently is one of the top players on the Duquesne University volleyball team.
"That really inspired me," said Lefeld. "After that, that's always been my dream."
The other source of motivation that Lefeld speaks highly of is her father Jerry, who passed away in an accident when Kayla was in junior high school. Jerry Lefeld was a veteran of the week night volleyball leagues around the area and a picture of her father remains in her locker. "I watched him every Thursday night. He played out at Chickasaw," said Kayla. "I remember going out there when I was little. When I was younger, I was into basketball (Lefeld is also a solid basketball player at St. Henry), and then it turned around into volleyball. I watched him play and I couldn't wait until I got older then I could play. I never got that opportunity, but hopefully someday. That was the first thing that definitely got me started in volleyball."
Lefeld has blossomed into a hard-hitting outside hitter for the Redskins this season. After helping the team to the Division IV state title in 2004 as a junior, Lefeld averaged 3.95 kills per game in the regular season and dominated the service line with a powerful jump serve that led to 131 aces in 71 regular-season games, a 1.85 per game average.
In addition to the MAC Player of the Year honors, Lefeld was District 8 Player of the Year, first-team All-Ohio and a representative at this weekend's state All-Star Game.
The Division I Vikings had a solid season, finishing with the regular season at 19-9 and 11-3 in the Horizon League, earning the second-seed in the postseason tournament to be held this weekend at University of Illinois-Chicago. There is a St. Henry connection to Cleveland State as former Redskin standout Molly Hoying was a key player in the late 1990s and early 2000s.
Having played a tough schedule, both in conference and non-conference, Lefeld believes that she's ready for the tough schedule CSU will have in store.
"As far as I know, the MAC is one of the toughest conferences to be in," said Lefeld. "It's a battle every year and everyone is out to get us. You're always putting forward 110 percent effort."
Phone: (419)586-2371, Fax: (419)586-6271
All content copyright 2005
The Standard Printing Company
P.O. Box 140, Celina, OH 45822