By Janie Southard
jsouthard@dailystandard.com
Austin Stelzer is a changed kid and he isn't hesitant to say so.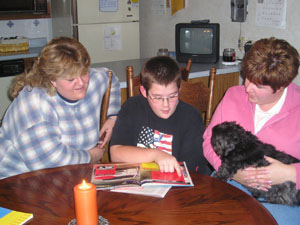 After years of speech therapy to correct his stuttering, the Celina fifth-grader and his family went to yet another doctor with the hope of at least helping the boy's pronounced stutter.
But this time it was like magic, like a gift from God, according to Austin, his mom Missy Stelzer, and his aunt Shelly Figel, who both traveled with him to his Lima appointment.
The boy went into the doctor's office stuttering badly as he always has from the time he was 6 years old, his mom told The Daily Standard last week at her dining room table with an audience that included three perky Shih Tzu pups.
When they left the doctor's office earlier this month, Austin was speaking fluently with barely a trace of a stutter. "It was very emotional for all of us. We've done everything over the years to help him. He just struggled and struggled to get a sentence out. It would break your heart," said his mom.
The tendency of the public is to tell the stutterer to slow down, but the problem has nothing to do with speed.
"And it absolutely has nothing to do with intelligence. The actual cause is not known, but more than 60 percent of stutterers have at least one family member who stutters," said his mom, adding Austin's great-grandfather stuttered.
In the office, when he realized he was speaking fluently, Austin said he began to cry as did his mom and aunt "All I could say was, thank you, God," he recalled.
The magic is technology in the form of a small device that attaches to the ear and looks like, but is not, a hearing aid. The device Austin has is a SpeechEasy, one of several similar devices available in the marketplace.
According to SpeechEasy literature, the device works to replay the wearer's voice in his own ear with a slight delay and frequency modification. Thus the brain believes it is speaking at the same time as another person, which results in a choral effect.
The frequency ranges from a Mickey Mouse level to Darth Vadar's deep resonance.
"You may have noticed there are two definite times when stutterers don't stutter: reciting the Pledge of Allegiance or the Our Father in unison with other people. That's the choral effect," Missy Stelzer said, adding they don't stutter when singing also. "Like (country singer) Mel Tillis who has a bad stutter but never when he sings."
The path to Austin's smooth speech came about because of a television show called "Three Wishes" wherein singer Amy Grant takes her crew to various towns to hear wishes from the audience.
The show Missy Stelzer watched featured a wish to help someone who stuttered.
"I watched that show and couldn't believe my eyes. As soon as the little ear piece was inserted, the person spoke perfectly. I called Shelly right away and I think we both got on the Internet to find a doctor. We would have traveled anywhere but unbelievably we found Dr. Durst in Lima," she said.
Typically children who stutter endure a lot of teasing from classmates, and Austin has certainly had his share. But he also has his very best friend, Jared Reier.
"I've told him I'm sorry I stutter so much, but he says he doesn't notice it anymore," Austin said.
The first call he made when he got home from Lima was to Jared, who apparently really doesn't notice his friend's stutter because Austin had to point out he wasn't stuttering. "But, he was happy for me," Austin added.
Presently Austin wears an external earpiece while he awaits the arrival of his own unit, which will be worn completely inside the ear canal. The device, which costs between $4,000 and 5,000, will last indefinitely due to the ability to upgrade it via computer.
Austin's mother said the doctor's office has not been successful in getting any insurance to cover the device; however, the Stelzers are hopeful their insurance carrier can be persuaded to review this new technology and at least pay part of the expense.