By William Kincaid
wkincaid@dailystandard.com
ST. HENRY -- A St. Henry cheerleader -- and her band of book-toting APE's -- are leading a rally cry to promote reading among first- and second-graders.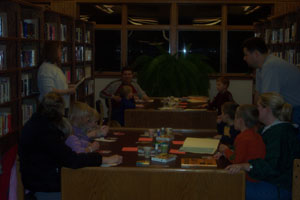 dailystandard.com">
Erica Gelhaus, a high school senior and assistant at the St. Henry Granville Township Branch Library, recently started a reading program that familiarizes and promotes books to youngsters.
"I've seen a lot of younger kids come in, and they have a negative attitude about reading," Gelhaus says. "I want to change that ... so they have a positive attitude and read more."
And these are no ordinary student volunteers. According to Gelhaus, the group, entitled Athletes Promoting Excellence or APE, is comprised of band members and student athletes.
On Wednesday night at the St. Henry library, the APEs read "A Turkey for Thanksgiving" to about 20 students. The children then were divided into groups of five, with the student volunteers selecting 10 words from the book and using them as flash cards to help teach vocabulary.
One student volunteer asked her group, "This is what we eat on Thanksgiving?"
The children collectively and enthusiastically bellowed, "Turkey!"
As the children huddled like Indians around the volunteers who read about the Thanksgiving turkey, they were able to perceive reading as an exciting and fun activity.
"They seem to really enjoy it," Gelhaus says. "Reading is really important. All other activities center around reading. It's important to develop a positive attitude early on ... to look forward to reading and make it an easier task for them."
APE's also try to help prepare the children for speaking in front of groups. During each session, every child reads a page from the book out loud to the group.
Julie Hunt, an elementary reading specialist who works with preschoolers at the library, says Gelhaus' newly implemented reading program already has shown signs of success. Many of the children, according to Hunt, have excitedly recognized the volunteers as cheerleaders and volleyball players. Therefore, the children observe their role models as friendly people who love to read.
The reading program, which was started in October, is held ever other Wednesday at the library. The next session will be 7 p.m. Nov. 30.
Phone: (419)586-2371, Fax: (419)586-6271
All content copyright 2005
The Standard Printing Company
P.O. Box 140, Celina, OH 45822