By Gary R. Rasberry
grasberry@dailystandard.com
It seems like playoff rematches are becoming a trend for Coldwater.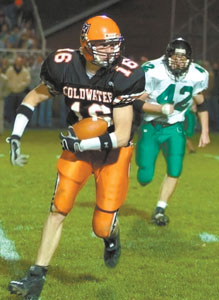 Last season, the Cavaliers avenged a 2003 loss to Delta in the regional finals with an overtime win at Lima in a regional semifinal.
This year, the Cavaliers will need to pick up a second straight win over Huron in the regional finals to keep their drive to the state finals alive.
Just as they were last season, the Tigers (11-1) are a strong team looking to break through to the final four in Division IV.
Donnell Stadium in Findlay looks to be hopping on Saturday night as the teams renew hostilities. Last year's 19-6 Cavalier win at Fostoria was a rain-soaked affair as both teams had to deal with the muddy conditions. The Cavaliers fared a little better as they held the Tigers to 37 yards rushing and 139 yards passing while totaling nearly 300 yards of offense.
Tiger coach Tony Legando remembers the Cavaliers well.
"I think there's a little bit more familiarity than with a team you've never played before," said Legando, in his 18th year at Huron. "We have last year's film to study to see how they've evolved into this package.
"They are about as good a football team as we've ever played. They rank with the best that we played."
This year's team is a bit different from last season's squad. A running game has been included with the pass-oriented offense.
Senior fullback Trevor Greenawalt leads the way, rushing for 1,237 yards on 243 carries to become the first Tiger 1,000-yard rusher since the 1988 season.
The Tigers still have a solid passing game. Junior Nick Basting has completed 112-of-188 passes (60 percent) for 1,592 yards and 13 touchdowns. Senior receiver Calvin Black leads the team with 53 receptions for 754 yards and five scores. Evan DeLuca, a veteran of last year's game with Coldwater, has 40 catches for 650 yards and eight scores.
"Passing is not their strong suit this year," said Coldwater coach John Reed. "I think they know that if they're going to beat you, they have to run the ball and they would like to add to that the compliment of passing.
"In a lot of games, they want to come out and establish a good mix. Then when the game is on the line, they're going to run the ball."
A big reason for the run being so successful is the line, which has gotten bigger since last year. Senior lineman Matt Grieves, at 5-6 and 265 pounds, and 6-4, 270-pound senior Sam Sage lead an experienced group of linemen.
"They have outstanding offensive linemen," said Reed. "That's where it starts. You can talk about a 1,000-yard rusher, but it starts with the offensive line and they have an outstanding offensive line."
Just like Coldwater, the linebackers dominate the defense. Sen-ior John Drumm (6-3, 210) leads the team with 177 tackles, one of three Huron players with 100-plus tackles. Classmate Tyler Morehart (6-1, 205) has 131 with DeLuca adding 117 from his defensive back spot. DeLuca also is the stopper of the secondary, snatching six interceptions this season. Black has five interceptions from a linebacker spot.
Kirk Brown handles the kicking chores for the Tigers. The senior was 43-of-46 on PAT tries and 7-of-16 on field-goal attempts.
Legando knows the major threats to his team are Steve Borger and Ross Homan. Borger had another solid night in passing for a touchdown and running for another score in the win over Clear Fork. Ross Homan added two scores of his own and helped wreak havoc at the linebacker spot.
(Homan) signed with Ohio State as a junior, so he must be pretty good," said Legando. "(Borger) has a strong arm, quick feet, and has two interceptions, which is pretty good. Then they put Homan in backfield. He (has) 4.5 (speed) in the 40 and you realize they have some pretty nice perimeter speed."
Defensively, Coldwater will look for another solid game from ends Gaston Pleiman and Brian Brunswick, both of whom wreaked havoc on Clear Fork last week. Pleiman came up with a huge defensive game last season against Huron, sacking then-Huron quarterback Branden Jackubcin four times.
This season, Pleiman and Brunswick have benefited when teams were searching for the linebackers. Brunswick has 52 tackles and 5 1/2 sacks while Pleiman adds 48 tackles and two sacks.
"If you were to interview our linebackers, they would tell you they're only as good as those guys in front of them," said Reed, referring to the ends as well as tackles Paul Matthewson and Trent Dues. "As long as those guys can keep the linemen off of them and allow them to scrape and fill, they're going to be pretty good at doing that."