By Shelley Grieshop
sgrieshop@dailystandard.com
The Frankenbergs were trying desperately to keep their rural New Knoxville farm operating in January after an ice storm interrupted power and brought the local area to a standstill.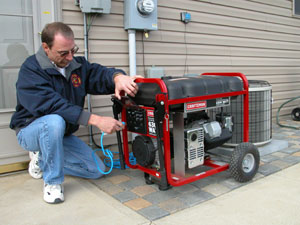 But Cletus and Mary, both in their 70s, made a deadly mistake -- they placed their portable generator inside their basement, allowing toxic carbon monoxide fumes to travel upstairs where they were later found dead.
"That's the biggest problem you hear about, people don't understand generators give off fumes that can kill you," says Todd Mangen, an educator for the Ohio State University Extension office in Celina. "Many people have no knowledge about combustible engines and place generators wherever they're convenient."
Dozens of Americans die each year from carbon monoxide poisoning due to the improper use of portable generators, according to the U.S. Consumer Product Safety Commission. Fire, shock and electrocution also are risks.
Victims likely aren't aware they've placed themselves in danger until it's too late, Mangen says. "They may smell a little bit of exhaust, and think big deal. By the time they realize what's going on, they're probably not thinking straight anymore because the fumes begin to affect their judgment," he said. "Then it's too late."
Yes, generators can be dangerous, but they also can save lives by providing heat and electricity in critical situations. Many farmers and small businesses have permanent generators on site as a necessity.
Finding a portable generator locally proved a challenge last week. Most stores do not carry them year-round but do offer to order them upon request. One local farm supply store offered a 7500-watt generator with a push button start for about $1,150, and a 5500-watt pull-start type for nearly $680.
Some generators operate on gasoline, others use propane gas.
It was following the flood of 2003 that Carl and Mary Ann Fleck decided to purchase a generator. The rural Celina couple, also in their 70s, found themselves baling more than six inches of water from their flooded basement by the bucketful when power became disrupted.
"The electric was off and our sump pump went out. The water was getting close to the motor of our furnace," Mary Ann Fleck says.
It didn't take long before the husband and wife team grew exhausted from climbing the basement stairway and dumping pail after pail outside. They wasted no time investing in a portable generator soon after.
"When I think back, standing there in that water, the electric could have come back on any minute and we would have been zapped," Mary Ann Fleck says.
Although a generator could help them immensely in an emergency, the Flecks also realize its deadly side. When in use, they place it outside and away from their attached garage.
Like other local residents, Mangen hopes Mother Nature doesn't send ice storms or other catastrophes this way. But just in case -- have a plan, he suggests.
"Talk to a professional such as an electrician who can tell you what size and type of generator best fits you and your situation," Mangen says. "It's really important to do your homework first."
Phone: (419)586-2371, Fax: (419)586-6271
All content copyright 2005
The Standard Printing Company
P.O. Box 140, Celina, OH 45822