By Margie Wuebker
mwuebker@dailystandard.com
Two men in a passing truck spotted smoke coming from a Coldwater-area home and alerted authorities, who sent three fire departments to the scene Tuesday afternoon.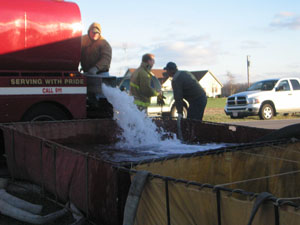 The home of Steven and Dayle Ross, 5847 state Route 118, sustained heavy heat and smoke damage in a blaze that apparently started in the living room.
Coldwater Assistant Fire Chief Steve Sutter told The Daily Standard, the prompt action of the passersby prevented even greater damage.
"Flames were contained inside the house, but the heat was causing windows to crack," he said. "Without those windows, the fire would have had a ready source of oxygen. We would have seen a lot of flames instead of smoke."
Nuwave Technology employees Gary Williams and Dave Garrison spotted smoke coming from the living room window while returning to the Coldwater company shortly before 4 p.m. They turned around and proceeded down the long driveway fearing someone might be inside. The men found the door unlocked and opened it, only to be greeted by heavy black smoke. They screamed loudly inquiring whether anyone was inside and heard nothing but the crackling of fire.
Williams told 911 dispatchers via cell phone it did not appear anyone was inside and warned of a propane tank situated nearby. He later expressed relief that no one was home at the time.
Firefighters laid 1,500 feet of hose along the long driveway leading to the white frame home. Portable tanks were set up along state Route 118 at the foot of the driveway with tankers bringing water to the scene from a nearby pond.
The flames were extinguished quickly revealing considerable damage. A computer monitor melted as did the front of a microwave oven due to the contained heat, the fire chief said.
"The living room was pretty well charred," Sutter continued. "Fortunately, the door to the upstairs bedrooms was closed so the only damage was related to smoke."
An investigator from the Ohio Fire Marshal's Office was expected to arrive this morning in hopes of pinpointing the exact cause of the blaze. The dollar loss has not been determined, but the owners reportedly have insurance.
Thirty firefighters from Coldwater, Celina and St. Henry responded along with five trucks.
Phone: (419)586-2371, Fax: (419)586-6271
All content copyright 2005
The Standard Printing Company
P.O. Box 140, Celina, OH 45822