By Laura Walker
lwalker@dailystandard.com
Celina city water exceeds the maximum contaminant level for trihalomethanes by over two and a half times, while other area cities also using surface water are in compliance.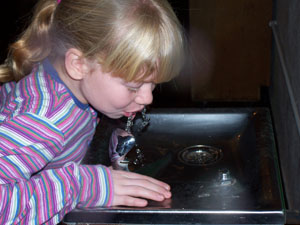 Van Wert, Lima and Upper Sandusky all draw from rivers but all are under the 80 parts per billion of trihalomethanes (THMs) allowable for drinking water according to regulations by the Ohio Environmental Protection Agency (OEPA).
THMs are a concern because high concentrations may cause cancer and problems with liver, kidneys or central nervous system when consumed over many years, according to the quarterly public notice issued this week by Celina. THMs are formed by the action of chlorine and disinfectants on organic material in the water.
"What hurts Celina is the level (of organics) they start with," said Doug Sharp, OEPA spokesman.
All of the cities compared for this article primarily have agricultural sources. But Sharp cited the time water stays in Grand Lake and the shallow depth of the lake as contributing to the high organic levels. The main reason, said Sharp, is "Grand Lake acts like a reservoir. Celina has no choice on what goes in and they have to take all that comes in."
He explained that Lima and Upper Sandusky can regulate when water is drawn from rivers for their holding areas as the amount of organic matter rises and lowers in rivers throughout the year. He said this allows them to bring in "good" water and let "bad" water flow on by. As a result, less organics get to the treatment plant and that lowers the chance for THMs.
As of Nov. 17, the running average THM level was 204.4 parts per billion (ppb) in Celina. A running average is calculated every quarter by dropping the oldest quarter and adding the new quarter figures to the average.
The THM level for Celina averaged 264.4 ppb in 2004, calculated on THM levels that ranged from 206.5 to 382.8 ppb.
Nearby Van Wert reported a range of 40 to 110 ppb in 2004. It uses surface water from Town Creek and was able to keep its average to 64.87 ppb.
Lima uses surface water from intakes on the Ottawa and Auglaize rivers. Its water report lists contaminant sources as agriculture, industrial storm water, home construction, machine metal workshops, landfills, junk yards, septic systems, wastewater treatment discharges, roadways and railways. In 2004 Lima reported an average THM level of 62.8 ppb.
Upper Sandusky has a similar water source, the Sandusky River, and the drainage area of the Upper Sandusky Reservoir. Water Treatment Plant Supervisor Dave Westbrook said in 2004 the city reported an average THM level of 82 ppb, which is a violation.
In response, the plant made changes to the treatment and testing process. A polymer was added to help settle out the organic material. Changing filters and adding new baffles also helped to remove some organic materials. This dropped the average of the past four quarters to 46.5 ppb.
"We have seen considerable reduction," he said.
Scott Lumbrezer, a professional in water treatment technologies, explained there are a number factors that go into the outcome of the THM level. He said each city and treatment plant is unique and poses a challenge.
"Constituents and cost efficiency makes certain technology not viable," Lumbrezer said, adding the bottom line is that it may cost a lot to resolve and somebody has to pay.
Celina city officials began to seek a solution to the THM problem after their first violation in 2001, said Mike Sudman Jr., superintendent of Celina's water and distribution system. Celina has been in violation of the maximum contaminant level of 80 ppb since the EPA changed the maximum contaminate level for THMs in 2001. He added Celina must be compliant by Nov. 5, 2007.
Different technologies and new water sources have been tried and still are being investigated. The city has drilled test wells exploring the possibility of switching from surface water to well water and has researched updating the city's treatment plant. Currently, a pilot carbon filtration system is ready to test. On Dec. 12, carbon will be put into the filter, but it will take time to see results.
Water from underground wells typically does not contain much organic material, and therefore, likely will not form many THMs during the disinfection process. But test wells drilled by the city were in a different watershed and law does not permit moving any water a few miles down the road to the Celina area watershed.