By Shelley Grieshop
sgrieshop@dailystandard.com
Watermarks were visible inches from the ceiling and photos of children still hung on the wall inside the Mississippi home where Kaela Gardner and Trisha Strawn carefully tread.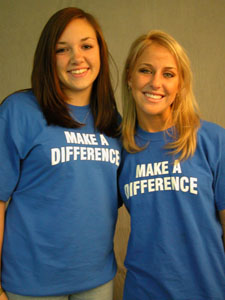 During a recent trip down south, the 18-year-old Parkway High School seniors spent much of their time retrieving personal items -- such as heirloom china and love letters from the '50s -- for victims of Hurricane Katrina. But perhaps the most important thing they found beneath the rubble was a passion to continue their mission back home.
"Each night we would sit in the parlor and just cry," says Gardner, a cheerleader at the Rockford school.
Her classmate who also made the trip says the heartache experienced by the victims was more than she could emotionally handle at times.
"I cried more that week than ever in my life," adds Strawn, a member of the Parkway schools golf team. Feeling like their job was not yet complete upon returning home with a dozen or so other Ohioans, the duo decided to embark on a mission of their own. They couldn't forget the faces of those they met during their trip, the families with no homes and nowhere to turn.
"We started writing ideas down on paper," says Gardner, whose parents, John and Kim Gardner, also made the trip after hearing about the project through friends.
The teenagers decided to start a club, unlike the typical school clubs, and soon Make A Difference was born. An informational meeting on the newly-formed club is slated for Wednesday.
The Parkway duo hopes to collect enough money and goods in the next few weeks to bring some Christmas cheer to the needy victims down south. The money and items gathered will be distributed by First Life Christian Church in Orange Beach, Ala., which is operating a distribution tent in a Waveland, Miss., shopping mall.
"Government officials (in Mississippi) said people are getting things they need much quicker through the churches than any other way," Gardner says, adding there is less red tape involved.
About 5,000 families have signed up with the church to receive aid as it's available, Gardner says.
The recent trip the girls were part of was partially sponsored by the Wayne Street United Methodist Church in St. Marys and included people of various religious denominations and backgrounds. Each member held the same goal: to make a difference somewhere, somehow.
The Rockford teens put their make-up and school clothes aside for the week in place of bandanas, T-shirts and sweats. "I think we wore the same clothes all week," Gardner says with a laugh.
The teens joined the group each day for a variety of jobs including the gathering of fallen branches. Long pants were mandatory in the hot and humid climate to avoid scratched legs while hauling tree branches into huge piles, Strawn says.
Dogs freely roamed the streets where damaged belongings were piled for disposal. The stench from rotting sewage and mold kept masks on the girls faces in many areas, they say.
Recalling one acquaintance, 87-year-old "Mr. Sanders," immediately brings tears to the girls' eyes.
"He told us he lived in the house he grew up in. There were 10 acres of land on the property, and it was a beautiful place at one time," Gardner explains. "Now all the buildings are smashed by trees."
Sanders told the girls how depressed he had been, how he felt he had nothing to live for until they arrived.
"He said we gave him hope for the first time since the storm. He told us God must have brought us to him," Gardner recalls as tears stream down her cheeks.
Each night the young ladies returned to a home in Ellisville where they stayed with an elderly woman who was displaced from the storm. They discussed the day, the good they accomplished as well as the flattened neighborhoods where life no longer could survive.
"These people have nothing," Gardner says, trying not to cry. "I just can't imagine going home to find everything you have gone. Some of these people could help themselves if they had money to buy equipment, but they don't have that either."
Gardner and Strawn say they didn't want to leave Mississippi and plan to go back in the near future. They believe it's the duty of everyone across the country to help.
"This didn't happen in another country, these are our own citizens. We need to help our own," she says. "A national disaster can happen anywhere; next time it could be us."
The students say the experience helped them look beyond themselves.
"It taught us both to be more grateful for everything we have," Gardner says.