By Gary R. Rasberry
grasberry@dailystandard.com
It's the matchup that many have been waiting to see since the playoffs got underway.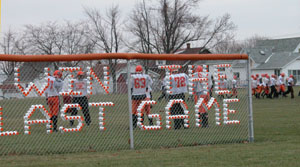 dailystandard.com">
Coldwater versus Youngstown Cardinal Mooney.
The brick wall defense versus the potent offense.
Midwest Athletic Conference versus Steel Valley, part two.
The Cardinals already had a taste of MAC football last season after beating Versailles for the Division IV title at Canton. Now at Fawcett Stadium on Saturday, it will be Coldwater's chance to not only beat Mooney, but to finally achieve its dream of winning the state title in its third try.
"You always hope so," said Coldwater coach John Reed. "It's a thrill to be here. You try not to get caught up in what has been or might be. It's a great opportunity to represent Coldwater."
Cardinals coach P.J. Fecko is impressed with Coldwater.
"Coldwater is an outstanding team that plays well in all aspects of the game -- offense, defense and special teams," said Fecko. "Their defense provides a big challenge to an offense."
The Cardinals won the state crown in 2004 with the talents of quarterback Kyle McCarthy. This year, the team turned to Campbell transfer Derrell Johnson, who uses a quick run out of the shotgun to stymie teams.
Despite being injured for five games this season, Johnson rushed for 1,239 yards and 10 touchdowns. Johnson was injured in the state semifinal with Bellaire, but Fecko said Johnson, who suffered what's reported as a shin injury, will be ready to go.
"There's no question he brings a facet to their game that is ... I don't know how to describe it in comparison because I don't want to say anything derogatory about somebody else and their ability," said Reed. "He makes them a great team. No question about it. It was a great move to get him."
The Cavaliers will also have to deal with tailback Nate Burney (5-9, 180. Sr.), who leads the team with 2,306 rushing yards with 22 TDs this season. Bruney rushed for 118 yards against Versailles last year at Canton in the state final.
What really concerns Reed is the size of the offensive line of the Cardinals. Mooney boasts tackles standing in at 6-1 and 310 pounds in Demetrious Fambro and 6-4 and 302 pounds in Ishmally Kitchen.
"Size and speed," was Reed's answer to what concerned him about Mooney. "The size of their offensive line is phenomenal. All (Bruney) needs is a sliver of space to get through and into the secondary. (Johnson) is an outstanding runner and has been a great addition for them."
The Cavaliers do not have the size on their defensive line to matchup with the Cardinals' line. With ends Brian Brunswick and Paul Mathewson and tackles Trent Dues and Tyler Kunk averaging out at 212 pounds, Reed will look for skill -- especially from the ends -- to work more than bulk.
"It's the quick or the dead, that's how it's going to end up," said Reed. "They go 310, 302, 290-something. Our guys go 185 pounds. We're going to have to be quick off the edges. We'll have to be able to move."
The main thing Reed and staff are preaching this week in preparing for Mooney is playing a normal game and staying disciplined.
"You really have to play disciplined football," said Reed. "You can't go help someone else to make a play because the natural ability of both those players (Bruney and Johnson) to cut back. If the play starts right, there's a good chance it will end up left.
"If you don't tackle or miss one of those guys, it's going to be a touchdown. Discipline and the ability to tackle, it may sound simplistic, but that's what it's all about."
Fecko is also acknowledging a challenge in trying to keep the Cavaliers' potent offense in check.
"We have seen that style of offense," said Fecko. "It gives you a lot of different (looks). You have to be sound in all areas."
The Cardinals boast a top defensive back in 6-2, 205-pound Desmond Marrow, who shared state defensive player of the year honors with Homan. Marrow has 10 interceptions on the season. The Cardinals have been strong on the pass defense, allowing 74.1 yards per game this season.
Fecko also knows he has to be wary of Cavalier senior Ross Homan on defense and offense.
"He's a tremendous athlete," said Fecko. "His intangibles have brought a lot of success to the team. He's a good leader on defense."