By William Kincaid
wkincaid@dailystandard.com
COLDWATER -- Two teachers were awarded grants Thursday for proposed hands-on teaching projects in their classrooms.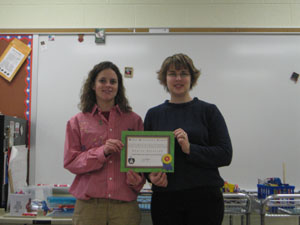 Elementary music teacher Denise Petersen and first-grade teacher Nikki Mescher both received $500 Make Activities Count (MAC) grants from McDonalds of greater Miami Valley. The awards were presented at the Nutter Center in Dayton.
The money will be used for classroom activities. Because of limited state financing, the grants will help the teachers and students achieve state standards, Coldwater Elementary Principal Molly Hay told The Daily Standard.
"We have to be more creative on how we finance programs," she said.
The 2005 MAC Grants -- sponsored by local McDonald's and endorsed by the Pennsylvania, Ohio and West Virginia State Teachers Association -- provides the grants for meaningful, hands-on activities to be used to enhance the learning process for students in kindergarten through eighth grades. According to Hay, over $42,000 was allocated to various teachers in the Miami Valley.
Each participating teacher had to complete an application by Oct. 1 describing how the grant money would be utilized in the classroom. Also, teachers had to include an itemized budget and ensure the selection committee that all grant-fueled activities would take place on school property.
"I wrote it up and sent it in and crossed my fingers," Petersen said.
Petersen said that she will use the grant money -- which will affect 450 students -- to enrich her curriculum in music and other areas.
She wrote the following in her application:
"I have found some awesome games, activities, etc. that evaluate and show abilities through hands-on. ... Instead of focusing on one area, I chose to embellish all areas of my curriculum as well as at several levels."
Mescher, a first-grade teacher who also received the MAC Grant, said she will use her allotted $473.35 to incorporate more science into her classroom of 24 students. According to her grant proposal, the students will make their own snow and tornadoes, pull iron from potatoes, make their own worms, grow sea creatures, and make their own primary color wand with crystals.
"I have decided to find children's literature to compliment the science experiments I would like to use in my classroom," Mescher wrote in her application. "The science equipment and kits that the MAC Grant would provide would greatly enhance my first-graders learning experience and also make learning enjoyable and fun!"
Although the MAC Grants have been offered for three years, Hays said this is the first time teachers from Coldwater have been awarded.
Phone: (419)586-2371, Fax: (419)586-6271
All content copyright 2005
The Standard Printing Company
P.O. Box 140, Celina, OH 45822