By Gary R. Rasberry
grasberry@dailystandard.com
WAPAKONETA -- A great rally by Celina to force overtime turned out ending in heartbreak as Wapakoneta slipped past the Bulldogs, 60-58, in the Western Buckeye League opener for both teams.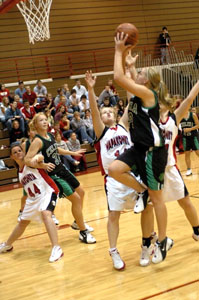 For Celina, the nemesis was turnovers, 23 turnovers to be exact. Celina had trouble keeping hold of the ball, turning it over four costly times in the overtime period.
"That's way too many," said Celina coach Brian Stetler. "That's something that we worked on or tried to work on. That's something we need to improve on if we want to get better."
What helped set aside Celina's inability to hold the ball was the Redskins' inability to hit a field goal. Wapak shot just 23 percent -- 14-of-60 -- in the game and hit just five three-pointers out of 29 tries behind the arc.
After Stetler was hit with a technical for coming onto the floor for arguing, the Bulldogs outscored the Redskins 8-2 in the final three minutes to tie the game. After all the free throws from the technical, Betsy Hone hit a jumper to cut the Bulldogs' deficit to 47-43. Lindsey Kentner made a pair of free throws with 2:23 left to put Wapak up 49-43 but Hone made one of two with 1:52 in regulation.
After Wapak failed to score down on its next trip, Kelsey Waterman hit a long three -pointer with 1:09 left to cut the deficit to 49-47. Celina then put the pressure on as Wapak tried to play keepaway and Hone broke in and got the steal and looked to have an easy layup, only to have Kentner bat the ball at Hone's leg and knock it out of bounds to give Wapak the ball.
The next trip, Amy Harner got the steal and worked it down to Waterman, but Waterman was tied up for the jump ball, with the alternating possession arrow sending it back to the Redskins.
After a couple of timeouts when unable to get the ball in, Wapak lost the ball with 26.4 seconds left to Celina. The ball worked its way around to Hone, who sank a running jumper with 10 seconds left to tie the game. Chelse Helmstetter's jumper in the corner was off the mark to send the game into overtime.
Things started out bad for Celina as Liz Homan was called for a personal foul, then hit with a technical for her reaction to the call. Wapak made two of the free charity tosses to go up 51-49. After Hone was called for her fourth foul, Brittany Duff swished a pair to make it 53-49.
Celina went inside to Laura Link, who got her own miss and put it back in with the foul. The old-school three-point play was made to cut the deficit to 53-52 before Harner got another steal on the inbounds and laid it in to put Celina up 54-53 with 1:18 left in the overtime. However, Wapak got the ball down the court, found Kentner at the top of the key and the long trey was good to put Wapak up 56-54.
The Bulldogs fouled Kentner, who was 11-of-13 from the stripe and Kentner swished both to make it 58-54. Celina went quick to Link, who scored to make it 58-56 with 9.5 seconds left but Abby Snider was fouled with four seconds left, making both tosses to make it 60-56. A late Hone basket made the final margin two points.
"I was very proud in how the girls hung in the ballgame," said Stetler. "It's a different type of ballgame when you have to come back. I thought our girls played their hearts out."
Wapak made up for the bad night from the floor with an excellent night at the stripe, making 26-of-34 attempts -- a 76.5 percent clip.
"Our first scrimmage, we didn't shoot free throws very well," said Wapakoneta coach Brad Rex. "We made them focus and made them shoot 20 a day. We have competitions where if we don't hit 70 percent we run. That's where we won the game. The girls played their hearts out. Both teams did."
Kentner led all scorers with 23 points and pulled down 13 rebounds while freshman Devon Golden added 13 points.
Hone had a strong night in helping Celina stay in the game, leading the Bulldogs with 21 points on 9-of-19 field-goal shooting. Liz Homan added 11 points and pulled down a game-high 14 rebounds.
Celina returns to the Fieldhouse on Saturday for a matinee with New Bremen.
Phone: (419)586-2371, Fax: (419)586-6271
All content copyright 2005
The Standard Printing Company
P.O. Box 140, Celina, OH 45822