By Margie Wuebker
mwuebker@dailystandard.com
ST. HENRY -- Terry Nieport intended to shell corn the morning of Oct. 29, but wound up fighting for his life in a hospital intensive care unit.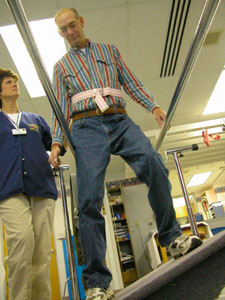 "The pain came very suddenly," the 48-year-old farmer and Granville Township trustee says. "I bent over and my head seemed to explode."
Sweating profusely, he dropped to the floor hoping the pain would ease with rest. He refused his wife's offer to call for an ambulance, but agreed to be checked at the hospital.
Ruth Nieport ran upstairs and returned to find him unresponsive. She placed the 911 call and waited for the reassuring wail of the siren.
"I could hear people talking, but I could not say a word," he recalls. "I recognized Rob Uhlenhake's voice." The last thing he remembers is the squad chief saying, "Hang on Terry, we'll get you there (Mercer County Community Hospital in Coldwater) in a little bit."
Emergency room personnel suspicioned an aneurysm based on the symptoms and comments he made earlier to family members about something "popping" in his head and excruciating pain. The possibility of more bleeding coupled with his tenuous condition resulted in transfer to a larger facility.
Dayton-area relatives and a priest were waiting when the CareFlight helicopter touched down at Miami Valley Hospital.
"Terry arrived in a matter of minutes," Ruth Nieport says. "Our trip by car seemed to take forever; we prayed all the way."
Tests verified the presence of a fusiform aneurysm -- a balloon-like bulge around an artery near the base of the brain. Traditional surgery involving opening of the skull was ruled out due to the location amid vital vessels in the neck.
The St. Henry man remained on a ventilator and under sedation in the intensive care unit, where his condition was closely monitored around the clock.
"Terry was with us and yet he was not with us," Ruth Nieport says. "I talked to him and sometimes he squeezed my hand. Once I looked over and there were tears running down his cheeks."
One doctor offered no hope to the Nieport family, which includes six children ranging in age from 6 to 21. Another took a more positive approach vowing to find the right place and the right person to repair the bulging vessel. However, he warned that could involve traveling to or bringing in a specialist from as far away as New York.
It turned out the right person -- Dr. William Protzer, an interventional neuroradiologist -- was on staff at Miami Valley.
Ruth Nieport will never forget the smile on Protzer's face as he emerged from an angiogram lab where testing gave a clearer, three-dimensional picture of the challenge at hand.
"I had prepared myself for whatever the outcome might be, knowing God was in charge," she says. "I prayed and it was as if God whispered 'Don't worry, I have a plan.' The doctor used the very same words."
The non-invasive procedure involved placing a catheter in the femoral (leg) artery and guiding it through the vascular system. Once inside the aneurysm, Protzer installed a special patch-like stent to repair the weakness in a relatively new procedure he has performed less than 30 times in five years.
One final problem -- an unexplained fever -- developed in the days following the procedure. Tests indicated neither meningitis nor some other infection; the complication disappeared as quickly as it developed.
"The whole experience was like a wild roller coaster ride with highs, lows, twists and turns," she says. "Then came the day nurses helped Terry stand beside the bed and he gave me a hug. That was the greatest gift in the world."
Each day brought more progress and he returned home Nov. 22 after spending several days in the rehabilitation unit at Upper Valley Medical Center near Troy.
"I was never one to sit still," he admits with a smile. "However, a couch or chair feels pretty good these days. I lost 20 pounds, and it will take some time to regain my strength through physical therapy."
The Nieports consider themselves truly blessed with a prognosis for complete recovery, something statistics indicate happens in 25 percent of cases. They also appreciate the amazing outpouring of support and prayers.
"It was like the people in St. Henry and the entire area put a big warm blanket around us," Ruth Nieport says. "Prayers, meals, babysitting offers, gas cards, transportation, get well cards. I always knew we lived in great community, but I did not realize how great."
Granville Township residents endorsed the trustee's bid for a second term, making him the top vote-getter at a time when his condition remained somewhat guarded.
"Every day is a blessing," he says. "The experience has given me a deeper appreciation for life as well as a vivid memory. I saw Robbie, the son we lost at birth 10 years ago, with his hand outstretched. I wanted to go to him, but something made me come back. I will see Robbie one day; Ruth and the other kids need me now."