By Ryan Hines
rhines@dailystandard.com
Celina was held scoreless for over five minutes to start the game and Piqua built a double-digit lead in the process before going on to beat the Bulldogs, 53-43 at the Fieldhouse in the season opener for both teams.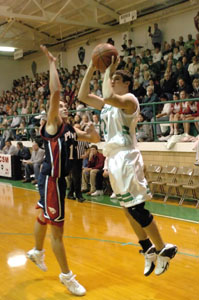 "We dug ourselves a 12-0 deficit right off the bat and when you do that, you begin to press on each shot when things don't go well from the start," said Celina first-year head coach Chris Bihn. "The ball just wasn't going in the hole early on for some reason. We were rushing shots before we got squared and that made it tough for us in the early going.
"They have bigger and quicker guards than we do and they pushed us away from the basket," continued Bihn. "I think that we also had some first-game jitters, but like I told the guys after the game, nothing that we did tonight can't be corrected. We can correct the things that were giving us problems tonight. We just have to keep improving in all facets of the game."
"We feel that our strength right now is on the defensive end," said Piqua head coach Russ Sponsel. "Our guards did a good job of pressuring the basketball and making it difficult for them to get into offensive sets. That was really important in the early going to help us get out to a big lead.
"We've seemed to get out to a big lead early in our scrimmages too, and then had to hold on. We've got to do a better job of sustaining the momentum in the early going and carry it on throughout the whole game," added Sponsel. "It's never easy to come in here and get a win, and it certainly wasn't easy tonight either." Celina is returning just one player with consistent varsity minutes from a year ago and it showed in the early going as Piqua raced out to a 12-0 lead, five minutes into the game.
The Bulldogs were 0-of-6 from the field with three turnovers before Derek Gagle got Celina on the scoreboard with a free throw at the 2:19 mark of the first quarter. Scott Luthman and Chris Post each hit three-point field goals in the first quarter for Celina, but Piqua held a 14-7 advantage after the first eight minutes of action.
Celina's offensive struggles continued in the second quarter as the Bulldogs shot just 4-of-20 from the field with eight turnovers in the first half facing a 29-14 deficit at halftime.
The Bulldogs played the Indians even through the third quarter, still down by 15 points (37-22) entering the fourth quarter.
Celina started the fourth quarter with a 14-2 run to claw to within three points, down 39-36 forcing a Piqua timeout with 5:09 left on the clock. Gagle scored seven points during the Celina spurt while Kyle White added all four of his points.
"We showed a lot of heart by coming back and we played hard, so I'm proud of the effort that the guys gave," said Bihn.
Piqua responded with five straight points, three by Pet Rolf to push the Indians' lead back out to eight points at 44-36. Celina could get no closer than six points the rest of the way.
"Celina came back, like we knew they would, and they just got hot to start the fourth quarter," said Sponsel. "They hit a couple of open shots and got on a roll, but we did a good job of coming right back after a timeout."
Celina struggled from the field shooting just 32 percent (13-of-41) and then compounded the offensive problems with an 11-of-21 mark at the free-throw line. Andy Muhlenkamp, who scored nine points in the game, hit his first three free tosses of the night and then went on to miss his next six tries at the charity stripe.
Gagle, a freshman in his first varsity action, led the way for Celina with 13 points while Luthman added nine points and eight rebounds.
Micah Fashner led Piqua with a game-high 16 points while teammate Justin Hemm added 12 points.
Celina is back in action tonight at home against Linden-McKinley.
Phone: (419)586-2371, Fax: (419)586-6271
All content copyright 2005
The Standard Printing Company
P.O. Box 140, Celina, OH 45822