By Margie Wuebker
mwuebker@dailystandard.com
MINSTER -- The towering Colorado blue spruce, now covered with whimsical ornaments and colorful lights at Minster Machine Centennial Park, just days ago was growing in Dave and Margie Bensman's yard.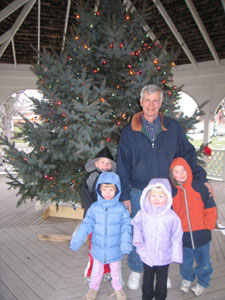 The tree is a gift to the village and its residents from the Bensmans, who live at 3601 East Shelby Road.
"We needed to move the tree and it was much too pretty just to chop down," the Minster-area woman says. "Donating it to the village lets everyone enjoy the beauty."
She planted 10 seedlings nearly 15 years ago, placing the free gifts from the Auglaize County Soil and Water agency in one general area.
The seedlings grew almost as fast as the couple's six children. One by one, Margie Bensman transplanted the evergreens to new locations. The prettiest was placed closer to the house; the others received homes elsewhere around the dairy farm. The blue spruce grew through first dates, graduations, departures for college, engagements, weddings and the arrival of grandchildren. But plans for a new patio developed recently as the majestic tree stood like a silent sentinel.
"We built the patio and now have plans for a much-needed parking area when the kids come home," she says. "Unfortunately, the blue spruce was in the way."
The Bensmans wondered what to do with the beautiful 20-foot tree that was much too tall for their own living room. A proposal to donate it to the village came during a conversation.
Decorating a tree with homemade or store-bought decorations has become a tradition in the community. Last year local veterinarian Paul Hunter donated a tree that once decorated his property. Existing evergreens at the north and south park areas were used in previous years.
"It was just too pretty of a tree to cut down and do nothing with," Dave Bensman says. "Donating it to the village where our kids grew up and attended school seemed like the right thing to do. After all, it's the season for giving."
Village administrator Don Harrod calls the donation a "great gesture" that is appreciated by all who pause to look at the decorated tree.
Village employees cut down the tree and loaded it onto a village truck and trailer. Once unloaded, it became clearly evident the lofty dimensions soared above the gazebo roof line.
"What you see here is roughly two-thirds of the original tree," Dave Bensman says. "It was either cut a hole in the roof or give the tree a haircut. Village employees chose the latter."
The tree, with all its holiday finery, will remain on display until early January. Plans are in place for its last hurrah.
Maria Lammers, the Bensmans' daughter, is looking forward to giving the tree a final home -- the bottom of her country pond.
"Early next year the fish will get a belated Christmas present in the form of a new place to spawn," she says.
Phone: (419)586-2371, Fax: (419)586-6271
All content copyright 2005
The Standard Printing Company
P.O. Box 140, Celina, OH 45822