By Gary R. Rasberry
grasberry@dailystandard.com
LIMA -- It does not matter how well a team shoots at the start of the game, if that team cannot take care of the ball.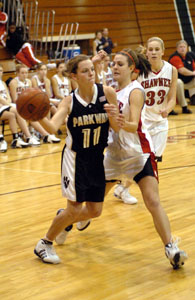 Parkway made its first five shots of the night and was shooting 50 percent in the first quarter.
Unfortunately, the Panthers also turned the ball over 21 times in the first eight minutes, allowing Shawnee to take a 20-point lead at the end of the quarter and eventually push it into a 75-33 non-conference win at Lappin Gymnasium in Shawnee Township.
The Panthers drop to 0-2 on the campaign as the Indians raise their perfect record to 4-0 on the season.
The Indians used a relentless full-court press to put Parkway down early, working a 10-0 run to go from being up just 6-4 to 16-4 in just over a minute. "Shawnee's pressure gave us fits," said Parkway coach Krystal Sensabaugh, whose team had 33 total turnovers in the game. "We didn't have a guard who wanted to bring up the ball today. We had to rely on our post players to bring the ball up. We need to have a guard step up."
Shawnee got a number of shots in the paint off the press. Molly Thompson hit all four of her tries in the quarter and Whitney Risner, when not dishing off to a teammate, scored six as Shawnee led 30-10 after the first quarter.
"(Parkway) is an inexperienced team," said Shawnee coach Jeff Heistan. "They have a lot of freshmen (Parkway started two with two more off the bench). Our kids have a lot of quickness and were able to put a lot of pressure on them. I think that hurt (Parkway) right from the start."
After making their first five shots, the Panthers slumped, missing their next five in the quarter, then going over three minutes into the next quarter before hitting another field goal.
The Panthers were 10-of-26 at the break and 1-of-6 from the three-point line. Tiffany Steinbrunner, after hitting her first two shots of the game, missed all 10 of her next attempts, leaving her with four points on the night.
While Steinbrunner couldn't hit anything in the final three periods, the Indians found the hot hand of Thompson. Thompson, just a sophomore, missed one shot in the first half and one in the second half out of 16 attempts, finishing with a game-high 31 points.
"Thompson is a very good player," said Sensabaugh. "We tried to stop her. We put two people on her at one time but she overpowered them."
The third quarter saw the cold spell take an Artic turn as Parkway missed all 14 of its tries in the stanza. Shawnee got its last burst to take a 66-22 lead going into the fourth quarter as coach Heistan called off the pressure and brought the bench in to play the fourth quarter.
"We need to put a whole game together," said Sensabaugh. "We can't go in spurts. We can't play two minutes and be off for even 30 seconds. Teams will take advantage of that. We need to play full quarters then whole games."
In addition to Thompson's 31, Jena Aller added 14 points while Amber Heistan had nine points and 10 rebounds.
Parkway was led by Jayme Marbaugh's 10 points while Ashley Gamble added six points.
Parkway opens Midwest Athletic Conference play on Tuesday in hosting Coldwater at Panther Gymnasium while Shawnee hosts Elida (2004 WBL champs) in a key Western Buckeye League matchup.
Phone: (419)586-2371, Fax: (419)586-6271
All content copyright 2005
The Standard Printing Company
P.O. Box 140, Celina, OH 45822