By Gary R. Rasberry
grasberry@dailystandard.com
ST. MARYS -- As any good rivalry should be, Thursday's Celina-St. Marys wrestling dual match was decided in the final bout of the night.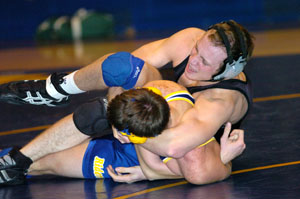 After each team used its experience advantage in the first 13 matches, the 14th and final match came between freshman Cole Koesters of Celina and sophomore Kirk Wietholter of St. Marys.
Wietholter got the first takedown and kept up the pressure to get a 16-1 technical fall win to give the Roughriders a 38-34 win over the MatDogs at McBroom Gymnasium.
Although the match will not factor into the Western Buckeye League -- the league dropped round-robin duals this season -- point standings, the win was a big boost for the young Roughriders.
"Any win this year is going to feel good," said St. Marys coach Larry Gruber. "I'm afraid we gave up so many pins early that we would not get enough at the end." St. Marys trailed 28-9 after R.J. Baskett scored a 4-1 win over Dustin Halbert at 103 pounds. With the match starting with the 145-pound wrestlers, Celina took advantage with veterans at the heavier weight classes. Tyler Temple pinned Scottey Luedeke at 145 and Eric Braun remained unbeaten at 5-0 with a pin over Greg Luthman at 152. Pins by Jordan Davis at 160 and Sam Eshelman at 275 helped put the MatDogs up big in the early going. Austin Trisel at 189 pounds and Jordan Davis at 160 also picked up decisions. Paul Lauth at 171 and Travis Neal at 215 picked up wins for St. Marys.
St. Marys countered starting at 112 with WBL veteran Josh Cisco. Cisco faced 3-1 Tylor Thees and jumped out big, leading 9-1 after the first period and went up 15-3 after two. Thees managed just one more point before Cisco got a takedown and worked it into a pin at the 4:45 mark of the match.
Rusty Johnson came up at 119 and had no trouble with Ben Sutter, scoring the pin in just 1:20 to make it 28-21 while Josh Toler (125) needed just 1:45 to get the Roughriders to within one at 28-27 with a pin on Scott Montgomery. Daryl Mabry, another lightweight veteran, faced Seth Posada at 130 and scored the pin in just 63 seconds to put the Roughriders in the lead for the first time.
"I knew they were coming back," said first-year Celina coach Tim Doner. "That's the meat of their lineup with the lightweights. I knew it was going to get pretty tight."
John Rhodes tried to sway the tide at 135 pounds, facing Trey Yelton in a must-win situation. Rhodes got a late takedown in the first period then was in the down position to start the second. Rhodes got the reversal and quickly worked around to get a pin at the 3:31 mark to put Celina up one at 34-33.
In the 140 match, the pair circled around until Wietholter found an opening and scored a takedown with 1:14 left in the period. A quick turn to get three back points gave the Roughrider a 5-0 lead.
Both wrestlers went neutral to start the second period, but Wietholter got the takedown and three back points to make it 10-0 before Koesters escaped. Wietholter got another takedown before the end of the period to go up 12-1.
Needing just four points to force the end of the bout via technical fall -- a lead of 15 of more points -- Wietholter was in the down position to start the third period, but a quick reversal allowed the sophomore to try and put Koesters on his back. Wietholter got Koesters down for enough time to earn the two points that ended the match.
"Where we had experience we were fine," said Gruber. "Where we had young kids, it could have went either way. Makes for an exciting match.
"It's nice to start out duals with a win (St. Marys placed eighth at the Graham Invitational on Saturday). It's a matter of if you get a win, you start doing things that can happen. You have to have some wins to build some confidence."
"It came down to freshman against freshman," said Doner. "It was a heckuva battle."
Celina won the junior varsity slate of matches, 33-10.
Celina returns to action Thursday as Van Wert comes to the Intermediate School for a dual match. St. Marys heads to Coldwater on Saturday for the Bob Sielski Coldwater Duals.
Phone: (419)586-2371, Fax: (419)586-6271
All content copyright 2005
The Standard Printing Company
P.O. Box 140, Celina, OH 45822