By Ryan Hines
rhines@dailystandard.com
The Celina girls basketball team lost its last three games due to an inability to make crucial plays at the end of those games.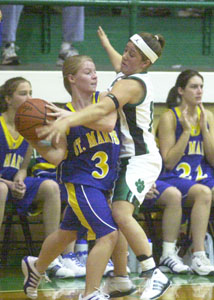 On Thursday night, Celina freshman Kelsey Waterman hit a short jumper with three seconds left in the game to give the Bulldogs a 34-33 victory over rival St. Marys in Western Buckeye League action at the Fieldhouse.
"I think that this win is really big for us because it was a win in a close game," said Celina head coach Brian Stetler. "We've been on the other end of those close games the past three games and to pull it out in the end was really nice to see for our girls. We played hard enough to win the past three games, but just couldn't get the job done in the end but tonight we were able to do that.
"We have a pretty good feeling that we can be in ball games, but now it's time to turn the intensity up and have somebody step up to win the close games," added Stetler. "We've proven that we can stay in ball games, but we just need to keep proving that we can win those games."
Celina held a slim three-point lead midway through the fourth quarter, but St. Marys' Toya Anderson made a steal and went coast-to-coast for an uncontested layup cutting the Roughriders' deficit to one point. Kerri Imwalle then hit a pair of free throws to put St. Marys on top 33-32 with 2:35 left in the game.
A turnover by Waterman gave the ball back to St. Marys and the Roughriders went to a spread offense looking to take time off the clock.
After several failed attempts for a steal, Celina fouled Anderson and sent her to the free-throw line for a one-and-one opportunity with 42 seconds left in the game.
Anderson missed the first free toss giving the ball back to Celina, which called a timeout with 24 seconds left.
Stetler drew up a play to try and get the ball into the post, but with time winding down, Celina freshman Cayla Hellwarth was forced to take a shot from the baseline.
Hellwarth's shot whit off the back of the rim and bounced to Waterman on the other side of the hoop and Waterman rattled home the jumper for a 34-33 Celina lead with just 3.3 seconds left in the game.
"We wanted to force them to take a contested shot and we stressed during the timeout to make sure and not allow a second shot," said Niekamp. "We wanted to limit them to just one shot on that possession, but the ball came off the rim a little funny and went long. We had position, but it went over the top of us and she (Waterman) was able to grab it and stick it back in and that's all she wrote."
"Kelsey was upset with herself after the turnover a little earlier but she hustled to get the ball at the end and to win the game on a hustle play was huge to see for her and for the team," said Stetler.
"I just wanted to box out if the shot didn't go in and if I could get the rebound to get it and put it back in and that's what happened," said Waterman. "If feels really good to make that shot and help us win."
St. Marys had a chance to win it, but Anderson's running jumper was off the backboard sealing the win for Celina.
"It's so tough to win on the road and this is obviously a big rivalry and we knew that we were going to get Celina's best shot," said Niekamp. "They (Celina) were struggling the past few games and I think that we got their best shot. We fought hard and I know they feel like crap in the locker room right now."
The win stops a three-game losing streak for Celina, which improves to 2-3 overall (1-1 WBL) while St. Marys falls to 2-2 on the season (1-1 WBL).
Betsy Hone, who missed her last nine field-goal attempts after hitting her first four shots, led Celina with 12 points, 10 of which came in the first quarter. Laura Link added eight points and a game-high nine rebounds.
Imwalle led St. Marys with 12 points while Lea Mackenbach added nine points, on a trio of three-point field goals.
Celina is back in action Thursday at Van Wert while St. Marys travels to Delphos St. John's on Tuesday evening.
Phone: (419)586-2371, Fax: (419)586-6271
All content copyright 2005
The Standard Printing Company
P.O. Box 140, Celina, OH 45822