By Janie Southard
jsouthard@dailystandard.com
ST. MARYS -- The most treasured Christmas presents often begin with Christmas past. Three area senior citizens recently shared some holiday memories of long ago, from bean soup to a red Whizzer to Grandma's butterscotch pudding.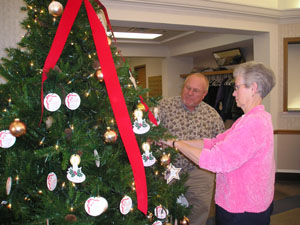 Martha Willis, 95, originally of DeGraff and now a resident at Otterbein St. Marys Retirement Community, immediately recalled the actual trip of several miles to her grandmother's home outside DeGraff.
"Uncle Sam would come to get us with his sleigh and a beautiful white horse named Nellie. There were bells on the sleigh, and we always could hear him coming," said Willis last week, a sparkle in her eye as she recalled those snowy rides.
Waiting at her grandma's house was a large kettle of homemade bean soup and pans of dried apple pie.
"I guess now it seems unusual to have bean soup at Christmas, but we always looked forward to it. And she always dressed it up with little rivels and spices. Oh, how I'd love to have a bowl of it right now," she said. (Rivels are crumbs of dough dropped in boiling soup to thicken it.) Willis' father was one of four sons who received strict instructions from their mother when they got married that they always would bring their families home for the holidays -- and they always did, making about a dozen people around the big dining table.
"You know, I bet some of your older readers will remember when people used to leave the sugar, jelly and other everyday things on the table after the meal and cover it up with clean newspaper. Sounds unsanitary now, but it didn't seem to hurt us," she mused.
Judy McClanahan, who came to Otterbein St. Marys with her husband Joe from their home in Hocking County, remembered as a child loading into the family's Model A Ford and driving to her grandparents' home in Lima.
"It seemed like a very long way (from Logan County) but, of course, it wasn't. But, that old car didn't have a heater so us kids would cover up with the big cowhide we kept in the car," said McClanahan, a retired fashion buyer and antiques dealer.
Times were tough for everyone during the Depression Era, and little Judy and her siblings were happy with the card from grandma with a dollar bill in it and the pair of socks and a candy cane from Santa.
"The church always gave all the kids a brown bag with an orange and some hard candy in it; and that was a real treat," she said.
Christmas dinner with her grandparents was memorable for its from-scratch butterscotch pudding as well as the bounty of pies: pecan, apple, pumpkin and homemade mincemeat.
"My dad did his own butchering, and my mother used the fresh meat from the hog's head for her mincemeat along with raisins, apples and other things I can't remember. I do know I got to help grind everything up," she said.
Joe McClanahan, a retired Ohio State University extension agent, farmer and travel agency owner, said one of his best memories of family Christmas is of the open, winding stairway at his parents' big brick house.
"Everyone had to sit on the stairs while Dad went down and turned on the tree. And, that continued after I was grown and had kids of my own. Then we'd all have to sit on the steps. That's the way Dad ran Christmas," McClanahan said.
His wife Judy added that one giveaway that her father-in-law was almost ready for the family to descend was when they heard him wind up the little white church that played "Silent Night."
McClanahan especially recalled his 12th Christmas when he went from his "lowest low to his highest high."
The whole family, cousins and all, were gathered around his grandparents' Christmas tree, ready for the gifts to be distributed.
"Well, everybody had a gift but me. All the packages were out from under the tree, and I had nothing. I didn't cry, but I sure felt like it," he recalled.
Then his grandfather told him to look at a certain card hanging on the tree. It said "Merry Christmas to Joe" and was tied to colored yarn, which young Joe followed through the house, across the porch and into the garage.
"The other end of the yarn was tied to a red, Whizzer motorbike. I couldn't believe it. It was a used model, but that didn't matter. It was wonderful. I'll never, ever forget that Christmas," he said, still shaking his head in awe of that moment over 50 years ago.